Managing the Transition in Guinea Bissau
The coup that broke off the second round of the presidential election in April, demonstrates that the tense relations between civilian and military elites that have marred progress since independence remain unresolved, observes the International Crisis Group.


Guinea Bissau: Managing the Post-Coup Transition

ICG, 17 August 2012

Guinea-Bissau took another dangerous turn on 12 April 2012, when the army arrested Prime Minister Carlos Gomes Júnior, who was about to be elected president. A military… Read more »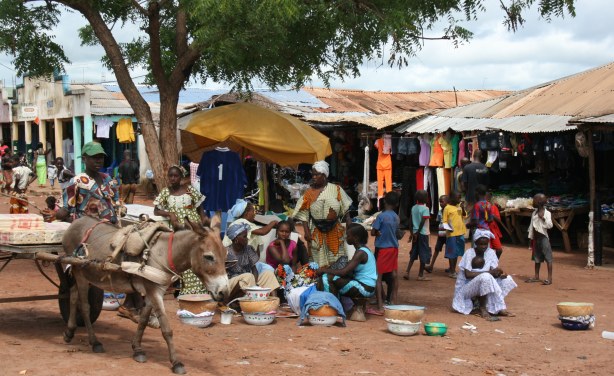 Market in Bafata, 80km east of the capital, Bissau.
Rwanda: Guinea-Bissau Drug Trade 'Rises Since Coup'

New Times, 1 August 2012

The UN Security Council has expressed concern that drug trafficking in Guinea-Bissau has increased since the coup in April. Read more »

Africa: Why Do African Presidents Keep Dying?

Daily Maverick, 1 August 2012

Being an African president is a risky business. It can be fatal. We're already three down this year alone, and critically-ill Meles Zenawi looks like he'll make it four. Other… Read more »

Guinea Bissau: Mutaboba Briefs Security Council On Guinea-Bissau

New Times, 1 August 2012

Ambassador Joseph Mutaboba, the Representative of the UN Secretary-General in Guinea-Bissau, met the UN Security Council to brief them on the situation in the west African country. Read more »

Guinea Bissau: Drug Smuggling Rises After Coup, Says UN

UN, 31 July 2012

The following Security Council press statement was issued today by Council President Néstor Osorio (Colombia): Read more »

Guinea Bissau: Security Council Calls for Inclusive Govt

UN News, 30 July 2012

The Security Council today called on all political actors and civil society in Guinea-Bissau to engage in a consensual, inclusive and nationally-owned process to restore… Read more »

Guinea Bissau: No Common Strategy to Resolve Crisis, Warns UN Official

UN News, 26 July 2012

Addressing the Security Council, United Nations officials today stressed the need for all actors in Guinea-Bissau to work together to restore constitutional order following this… Read more »

Mozambique: CPLP Wants Return of Rule of Law in Guinea-Bissau

AIM, 20 July 2012

Mozambican President Armando Guebuza on Friday demanded "the return of constitutional order and the rule of law in Guinea-Bissau". Read more »

Mozambique: Guebuza Receives Deposed Guinea-Bissau President

AIM, 18 July 2012

Mozambican President Armando Guebuza on Tuesday granted an audience to the legitimate head of state of Guinea-Bissau, Raimundo Pereira, who was deposed in April's military coup. Read more »

Angola: Angola Denies Any Blame on Guinean Coup d'état

ANGOP, 15 July 2012

Angola denies any responsibility for the coup d'état in Guinea-Bissau and expressed willingness to cooperate so as to overcome the crisis. Read more »