French Say They'll Secure Mali in Weeks
Just days after a fourth French soldier was killed, the country's defence minister, Jean-Yves Le Drian, has warned that it could take several weeks and possibly more violent combats before northeastern Mali is fully secured.


Mali: Weeks for French Troops to Secure North?

RFI, 11 March 2013

The French Defence Minister, Jean-Yves Le Drian, believes it will take another three weeks for French troops to fully secure north-eastern Mali from Islamic militants, and warned… Read more »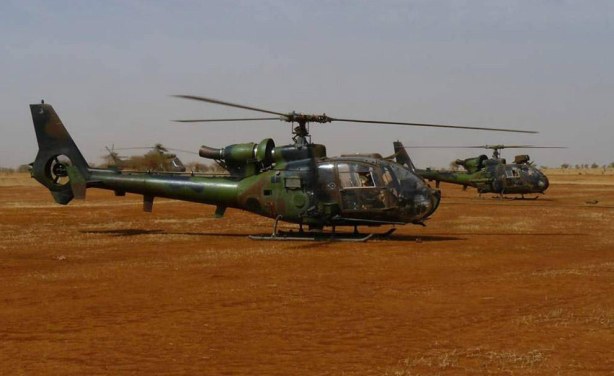 A French military operation in Mali.
Mali: Mali Fight in 'Final Stages', France Says

Magharebia, 24 February 2013

At least 65 Islamist fighters died Friday (February 22nd) during clashes with African troops in Mali's Adrar des Ifoghas mountains, near the border with Algeria, Al Jazeera… Read more »

Mali: French Imperialism Moves Deeper Into Mali

Fahamu, 14 February 2013

Despite French military intervention and claims of success in fighting Islamist militias, the conflict in Mali is getting worse. There is also some evidence of imperialist… Read more »

Mali: In Mali, a Harsh Dose of Reality for the French

Moroccan American Center, 25 January 2013

When France entered the world's newest war against terrorism, French officials boldly declared that the ragtag radical Islamists they planned to oust from northern Mali would… Read more »

Africa: Mali, France, and Chickens

Fahamu, 24 January 2013

The instability in Mali is a blowback from the NATO invasion of Libya. Conn Hallinan examines French interests in Mali and its former colonial empire arguing that chickens have… Read more »

Mali: Malian, French Troops Patrol As Powers Offer Aid

Tunis Afrique Presse, 20 January 2013

Malian and French troops patrolled the outskirts of the contested town of Diabaly on Sunday as Paris said Russia and Canada offered to help transport foreign troops to defeat… Read more »

Mali: French, Local Troops Move Against Rebel Positions

Magharebia, 17 January 2013

The war against terrorists in Mali is quickly becoming a regional conflict, with troops from across the region on their way to join the fight. Read more »

Mali: French Ground Forces Engage in First Combat

Magharebia, 16 January 2013

Malian and French ground forces see their first combat as air strikes continue to pound terrorists in northern Mali. Read more »

Mali: French Troops Fight Rebels On the Ground in Mali

RFI, 16 January 2013

French troops have engaged in close-quarter combat with Islamist fighters on Wednesday in the Malian town of Diabaly in the first ground clashes after days of air strikes,… Read more »

Mali: France Ramps Up Mali Intervention

Magharebia, 15 January 2013

Thousands of French and African troops are on their way to Mali to push back an Islamist offensive. Read more »
InFocus
Former president Nicolas Sarkozy has criticized his country's intervention in Mali as a fourth French soldier is killed near the northern city of Gao. Read more »

France has asked the UN to take control of forces in Mali as the country prepares to withdraw its troops and African forces step in. Read more »