Zimbabwe Court Rejects Bid to Delay Polls
Zimbabwe's Constitutional Court has rejected a bid to delay the country's elections. Regional leaders mediating in Zimbabwe had backed calls for the postponement but President Robert Mugabe was opposed to it.
Zimbabwe: Court Rejects Bid to Postpone Polls

SW Radio, 4 July 2013

Zimbabwe will hold elections in just over three weeks time after the Constitutional Court dismissed an application by Prime Minister Morgan Tsvangirai, MDC leader Welshman Ncube… Read more »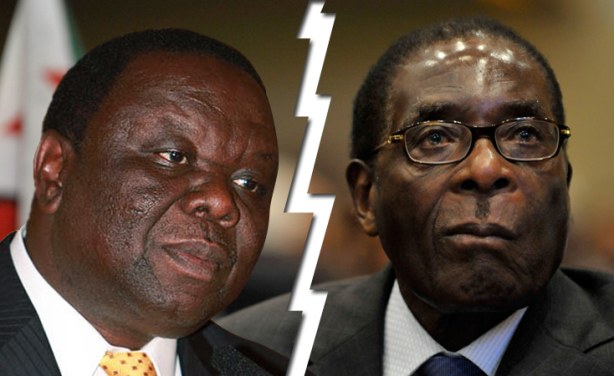 Prime Minister Morgan Tsvangirai, left, and President Robert Mugabe.
Zimbabwe: Zimbabwe Court Upholds July 31 Election Date

VOA, 4 July 2013

Zimbabwe's top court says the country's presidential election will go ahead as planned on July 31. Read more »

Zimbabwe: Tsvangirai Poll Application Dismissed

The Herald, 4 July 2013

The Constitutional Court today confirmed July 31 as the date for this year's harmonised elections after throwing out five different applications that sought the postponement of the… Read more »

Zimbabwe: Poll Date Extension Case Before Court Today

The Herald, 4 July 2013

President Mugabe's lawyers will today argue against MDC-T leader Morgan Tsvangirai and his MDC counterpart Professor Welshman Ncube's counter applications in the Constitutional… Read more »

Zimbabwe: Madhuku Says Court Will Uphold July 31st Poll Date

SW Radio, 3 July 2013

President Robert Mugabe has accused Prime Minister Morgan Tsvangirai of sending mixed messages on the controversial issue of elections dates, as the political parties gear up for… Read more »

Zimbabwe: Poll Date Hearing Deferred Indefinitely

The Herald, 27 June 2013

THE Constitutional Court of Zimbabwe yesterday deferred indefinitely hearing the case in which Government is seeking an extension of the harmonised elections date from July 31 to… Read more »

Zimbabwe: Constitutional Court Postpones Election Date Hearing

SW Radio, 26 June 2013

The Constitutional Court on Wednesday postponed a hearing on the election date extension appeal by Justice Minister Patrick Chinamasa, but lawyers say the court will now hear a… Read more »

Zimbabwe: Election Date Cases Set for 'Consolidation'

SW Radio, 26 June 2013

Court applications seeking to have the date of the elections changed to later in the year, are set to be consolidated into one major case. Read more »

Zimbabwe: Constitutional Court Postpones Election Date Hearing

AEP, 26 June 2013

Zimbabwe's Constitutional court on Wednesday decided to postpone hearing cases on the country's election date to meet with the major contesting political parties in the country's… Read more »

Zimbabwe: Tsvangirai Wants Poll Date Proclamation Nullified

The Herald, 25 June 2013

PRIME Minister Morgan Tsvangirai yesterday filed an application at the Constitutional Court of Zimbabwe seeking to nullify the proclamation by President Mugabe setting July 31 as… Read more »

Zimbabwe: Chinamasa Appeals for Poll Extension

The Herald, 24 June 2013

Justice and Legal Affairs Minister Patrick Chinamasa has urged the Constitutional Court of Zimbabwe to invoke its discretional powers to interfere with its earlier judgment on… Read more »

Zimbabwe: Chinamasa Ordered to Resubmit Court Application

SW Radio, 19 June 2013

Justice Minister Patrick Chinamasa has been ordered by the Principals to sit down with Finance Minister Tendai Biti and MDC President Welshman Ncube to craft a 'document by… Read more »

Zimbabwe: Poll Date Case Urgent, Says Govt

The Herald, 20 June 2013

GOVERNMENT yesterday filed an urgent chamber application to have the constitutional case it filed on Tuesday for the extension of the election date beyond July 31 heard on an… Read more »

Zimbabwe: Principals Meet Over Amendments, Poll Date

The Herald, 20 June 2013

PRINCIPALS in the inclusive Government, negotiators to the Global Political Agreement and legal experts from all the sides met at State House yesterday to discuss issues… Read more »

Zimbabwe: Govt Files Poll Extension Bid

The Herald, 19 June 2013

GOVERNMENT has filed an application to extend the July 31 deadline for holding harmonised elections in the wake of an appeal by the Sadc extraordinary summit in Maputo, Mozambique,… Read more »

Zimbabwe: Court Appeal Ruling Final, Says SADC

The Herald, 19 June 2013

SADC will respect any decision taken by the Constitutional Court regarding the possible extension of election dates as it will not create a precedent of contesting the rulings of… Read more »

Zimbabwe: Why the Opposition Shouldn't Be Distracted By the Election Date

ThinkAfricaPress, 18 June 2013

The MDC has been joined by SADC in calling for the election to be delayed slightly, but is this really a victory for the opposition? Read more »

Southern Africa: SADC Respects Zimbabwe's Early Election Date - By Simukai Tinhu

African Arguments, 17 June 2013

On 15th the Southern Africa Development Community (SADC) held an extraordinary summit on Zimbabwe in Maputo. The main issue discussed was the 31st July election date set under the… Read more »
Video
Publisher:

Publication Date:

13 June 2013

Zimbabwe was plunged into fresh political crisis on Thursday as Prime Minister Morgan Tsvangirai vowed to fight a unilateral decision by President ... see more »
Zimbabwe: Prime Minister Rejects Mugabe's July Election Date

Deutsche Welle, 13 June 2013

Prime Minister Morgan Tsvangirai has vowed to oppose a July 31 election date set by President Robert Mugabe. Read more »

Zimbabwe: MDC T Files Court Application to Challenge President's Proclamation

SW Radio, 13 June 2013

The credibility of the Southern African Development Community (SADC) is going to be tested over the weekend as they decide to what extent they will contest President Robert… Read more »

Zimbabwe: Tsvangirai Boycott Threats Slammed

The Herald, 13 June 2013

Prime Minister Morgan Tsvangirai was today widely criticised for threatening to boycott the forthcoming harmonised elections set for July 31, with analysts saying his utterances… Read more »

Zimbabwe: Mugabe Sets Election Date, Ncube aand Tsvangirai Cry Foul

SW Radio, 13 June 2013

Zimbabwe faces new political and legal uncertainty after President Robert Mugabe unilaterally proclaimed July 31st as the election date. Mugabe used a presidential decree to fast… Read more »

Zimbabwe: Mutambara Endorses, Tsvangirai Cries Foul

The Herald, 14 June 2013

THE proclamation of election dates by President Mugabe yesterday drew contrasting reactions from other principals in the inclusive Government as Deputy Prime Minister Professor… Read more »

Zimbabwe: Election Dates Gazetted

The Herald, 13 June 2013

The much awaited harmonised elections will be held on July 31 after President Mugabe gazetted the dates in Statutory Instrument 86 of 2013 today. Read more »

Zimbabwe: President Mugabe Sets Election Date

allAfrica, 13 June 2013

President Robert Mugabe has proclaimed July 31 as the date for Zimbabwe to hold general elections which are expected to end the power sharing deal with Prime Minister Morgan… Read more »
Video
Publisher:

Publication Date:

12 June 2013

Zimbabwe Prime Minister Morgan Tsvangirai vowed Wednesday to block President Robert Mugabe's efforts to set a date for key elections before democratic ... see more »
Documents
Author:

Office of The Prime Minister

Publisher:

Publication Date:

13 June 2013

This report carries Prime Minister of Zimbabwe, Morgan Tsvangirai's response to the announcement of the election date by President Mugabe. see more »
Zimbabwe: Court Adds to Fog Around Zim Elections

OSISA, 11 June 2013

In arriving at judgements, it is important that courts do not cultivate the unsavoury impression that they are hell-bent on taking us back to the Court of Chancery in Dickens'… Read more »

Southern Africa: Southern African Leaders Must Ensure Peaceful Elections in Zimbabwe

AI London, 13 June 2013

Southern African leaders must ensure human rights are prioritized in the run-up to elections in Zimbabwe, Amnesty International said ahead of a key summit on the country. Read more »

Zimbabwe: MDC Questions Validity of Zimbabwe's Constitutional Court

SW Radio, 3 June 2013

The MDC led by Professor Welshman Ncube has questioned the validity of the newly formed Constitutional Court saying the nine member judges who passed a ruling in the court last… Read more »

Zimbabwe: Election Count Down Starts

Deutsche Welle, 3 June 2013

Zimbabwe is gearing up for elections which have to be held by the end of July, despite a shortage of funds and unfinished reforms. Read more »

Zimbabwe: Parties Hail Judgment

The Herald, 4 June 2013

SOME of the 28 political parties active in the country and eyeing the harmonised elections have welcomed the Constitutional Court ruling that elections be held by July 31. The… Read more »

Zimbabwe: Mugabe to Comply With Election Date Ruling

The Herald, 2 June 2013

President Mugabe yesterday said he will comply with the Constitutional Court ruling on Friday ordering him to proclaim dates for the harmonised elections and hold the polls before… Read more »

Zimbabwe: Tsvangirai Sets Conditions for Polls

Zimbabwe Standard, 2 June 2013

PRIME Minister Morgan Tsvangirai's Movement for Democratic Change will insist on the full implementation of the agreed reforms before elections are held in accordance with a… Read more »

Zimbabwe: Tsvangirai in Contempt of Court - Legal Experts

The Herald, 3 June 2013

LAWYERS and political analysts yesterday rapped MDC-T leader Mr Morgan Tsvangirai for being in contempt of court and advocating unconstitutionalism after he questioned the… Read more »

Zimbabwe: Reforms As Dictated By SADC Will Give Us Credible Election

Zimbabwe Standard, 2 June 2013

I read with disgust and disbelief recent comments to the effect that Zanu PF spokesperson Rugare Gumbo has defied the Southern African Development Community (Sadc) in its calls for… Read more »

Zimbabwe: The Time for Elections Is Now

The Herald, 3 June 2013

Did it even have to take a court order to direct some of our politicians on when elections should be held when natural flux points to the expiry of the life of the Seventh… Read more »

Zimbabwe: I'll Comply With Ruling - President

The Herald, 3 June 2013

President Mugabe yesterday said he will comply with the Constitutional Court ruling ordering him to proclaim dates for the harmonised elections and hold the polls before July 31. Read more »

Angola: President Says Elections By July 31

ANGOP, 3 June 2013

Zimbabwean President Robert Mugabe said on Sunday he will abide by a court ruling to hold crucial elections before the end of July despite objections from his rivals. Read more »

Zimbabwe: When Lawyers Become Pedestrian for Political Expediency

The Herald, 3 June 2013

The over-debatable proposition that lawyers are safe from the threat of automation taking over their profession because no one would build a robot to do nothing has found curious… Read more »

Zimbabwe: Democratic Polls Remain a Pipe Dream

Zimbabwe Standard, 2 June 2013

THE gradual lifting of sanctions by the West against some of President Robert Mugabe's inner cabal will not cajole Zanu PF into holding democratic elections, as the former ruling… Read more »

Zimbabwe: Elections By July 31

The Herald, 1 June 2013

THE Constitutional Court of Zimbabwe has ordered President Mugabe to proclaim election dates and have the crunch harmonised elections held by July 31 this year. Chief Justice… Read more »

Zimbabwe: Constitutional Court Judgment On Polls

The Herald, 1 June 2013

Judgment No. CCZ 1/13 Read more »

Zimbabwe: Court Orders Vote, Rules Mugabe 'Violated His Duties'

Deutsche Welle, 31 May 2013

Zimbabwe's Constitutional Court has ordered President Robert Mugabe to hold crucial national elections before the end of July. The judge said Mugabe violated his duties by failing… Read more »

Zimbabwe: Constitutional Court Orders General Elections By July 31st

SW Radio, 31 May 2013

A full Constitutional Court bench on Friday ordered President Robert Mugabe to set an election date that would ensure that polls are held by July 31st. Read more »

Zimbabwe: Response to the Supreme Court Ruling

Zimbabwe PM, 31 May 2013

Today's ruling by the Supreme Court setting an election date is evidence that the court has overstepped its mandate. Read more »

Zimbabwe: Zanu-PF Welcomes Court Decision On Election Date

SW Radio, 31 May 2013

The political actors in the inclusive government have issued mixed reactions regarding a decision by the highest court in the country that President Robert Mugabe should call… Read more »

Zimbabwe: June 29: Zanu-PF Left With Egg On Its Face

Zimbabwe Independent, 31 May 2013

After staking his credibility and that of his party by publicly insisting elections would be held by June 29, President Robert Mugabe is facing an embarrassing situation as it has… Read more »

Southern Africa: SADC Pins Mugabe Down On Elections

Zimbabwe Independent, 31 May 2013

PRESIDENT Robert Mugabe is on the ropes as Sadc leaders are set to meet next weekend in Maputo, Mozambique, for an extraordinary summit to deal with Zimbabwe's political and… Read more »

Zimbabwe: Tsvangirai Challenges Election Date

Zimbabwe Standard, 12 May 2013

Prime Minister Morgan Tsvangirai and MDC leader Welshman Ncube have dismissed President Robert Mugabe's threats to unilaterally announce election dates this week saying it is… Read more »

Zimbabwe: Poll Dates Next Week - Mugabe

The Herald, 11 May 2013

DATES for this year's harmonised elections will be decided next week after the Senate passes the Constitutional Bill on Tuesday, President Mugabe has said. The Bill sailed through… Read more »

Zimbabwe: June 29 Too Early for Elections - Tsvangirai

The Herald, 10 May 2013

Prime minister Morgan Tsvangirai has reiterated that Zimbabwe was not yet ready for elections, insisting that they should be held after June 29. Read more »

Zimbabwe: Tsvangirai Insists On Security Reforms

Zimbabwe Independent, 10 May 2013

PRIME Minister Morgan Tsvangirai is persisting with his push for a full Sadc summit preceded by a Sadc troika on politics, defence and security cooperation meeting to ensure… Read more »

Zimbabwe: Poll Challenge Set for Wednesday

The Herald, 11 May 2013

The urgent chamber application in which Mr Jealousy Mawarire is seeking permission to have his court application to compel President Mugabe to proclaim election dates by June 29… Read more »

Zimbabwe: Poll Date - Legislators File Application for Urgency

The Herald, 11 April 2013

FORMER MDC legislators for Nkayi South, Bulilima East and Lupane East yesterday filed an application at the Supreme Court seeking an urgent hearing of their appeal to nullify a… Read more »

Zimbabwe: Ex-Legislators Contest Poll Date Ruling

The Herald, 10 April 2013

FORMER MDC legislators for Nkayi South, Bulilima East and Lupane East have appealed to the Supreme Court against a ruling by Judge President Justice George Chiweshe extending the… Read more »

Zimbabwe: Ex-MPs Take Poll Dates Appeal to Supreme Court

SW Radio, 10 April 2013

Three former MPs who have been fighting Robert Mugabe's refusal to call by-elections in constituencies they used to represent, have filed an urgent application in the Supreme Court… Read more »

Zimbabwe: ZEC Disburses U.S$16 Million

The Herald, 10 April 2013

The Zimbabwe Electoral Commission has paid more than US$16 million to polling officers who participated in the constitutional referendum last month and is ready to conduct… Read more »

Zimbabwe: Elections After Key Reforms

MDC, 9 April 2013

The MDC leadership here have said that holding free and fair elections in Zimbabwe is only possible after the completion of key reforms. Read more »

Zimbabwe: MDC-T Slammed for Hypocrisy Over Polls

The Herald, 11 April 2013

MDC-T has been accused of hypocrisy for pressing for the immediate holding of by-elections in three Matabeleland constituencies while at the same time demanding the deferment of… Read more »

Zimbabwe: Churches Call for Elections

The Herald, 11 April 2013

CHURCHES say the country should capitalise on the prevailing peaceful political environment to hold the harmonised elections tenable June 29. Read more »
InFocus
Some MDC-T aspiring candidates have threatened to split votes by standing as independents following their alleged unfair disqualification to contest this year's polls, reports The ... Read more »

Finance Minister Tendai Biti has said that the government will freeze all payments except salaries in a frantic effort to raise money to fund the July 31 election. Read more »