Mali Braces for Hunger
As the country emerges from its political crisis, aid agencies are warning that immediate food aid needs to get to extremely vulnerable communities in the north.


Mali: Mali Braces for Hunger

UNIRIN, 3 March 2014

As Mali slowly emerges from its 2012 political crisis and the Islamist insurgency in the north, the new government and its partners are focusing on long-term development. Read more »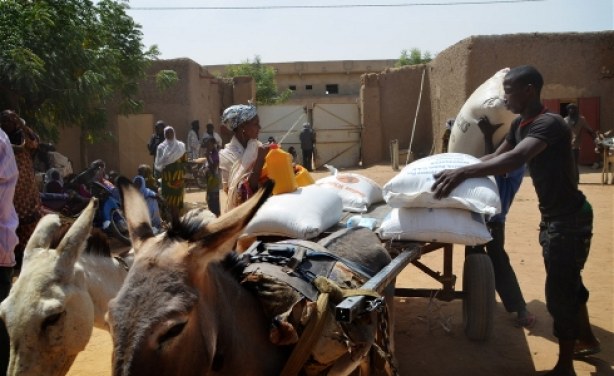 ICRC's food aid distribution.
Mali: Poor Farmers Fear Hunger Season After Patchy Rains, Conflict

AlertNet, 19 February 2014

In the Malian village of Gwelekoro, 53-year-old widow Kadia Samake worries that she will have real difficulty feeding her 15-member family when the "lean season" - an annual time… Read more »

Mali: Northern Mali On the Brink of a New Food Crisis

Oxfam, 31 January 2014

Ahead of the Sahel Appeal to be launched by the United Nations on the 3rd February 2014 in Rome, 11 humanitarian agencies warn that northern Mali is set to face another serious… Read more »

West Africa: Global Leaders Pledge Billions for Sahel

World Bank, 4 November 2013

Signaling a renewed focus on boosting economic growth and lifting people out of devastating poverty in Africa's hard-hit Sahel region, two international development agencies… Read more »

Mali: Nutrition Security in Gao - an Alarming Situation

Unicef, 23 July 2013

The humanitarian community is raising the alarm on the rates of acute malnutrition in Gao, Northern Mali. Mali's Ministry of Health and its partners, including UNICEF, have just… Read more »

Mali: Northern Mali - Communities Affected By a Food Crisis

Oxfam, 25 April 2013

Northern Mali will descend to emergency levels (1) of food insecurity in less than two months if the security situation and humanitarian access to vulnerable communities do not… Read more »
InFocus
The UN is appealing to donor countries to urgently come to the aid of Mali where it says three out of four households do not have enough to eat and are heavily dependent on food ... Read more »

The Food and Agriculture Organization has called for targeted aid and support for displaced farmers so they can resume growing and help improve the nation's food security. Read more »