U.S. Warns Djibouti Of Terror Attacks
The United States has issued an alert to its citizens in the country warning them of potential terror threats. This comes after suicide bombers from the Al Shabaab rebel group attacked the capital city in May.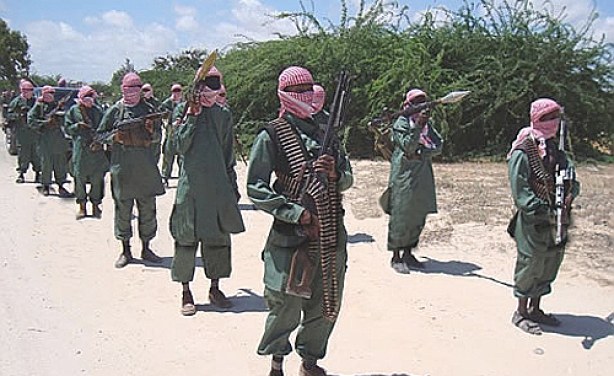 Members of the Al Shabaab terror group (file photo).
Djibouti: Djiboutian Police Release Names of La Chaumiere Attack Suspects

Sabahi, 2 June 2014

Djiboutian officials on Saturday (May 31st) released the names of the two suspects involved in the suicide attack on La Chaumiere restaurant last week, which killed one bystander… Read more »

Djibouti: Djibouti Mentions the Hometown of Suicide Bombers

Shabelle, 1 June 2014

Maki Abdikadir, who Is the National Treasurer for Djibouti reported to the media that they have investigated the two suicide bombers that killed themselves in an explosion almost 2… Read more »

Djibouti: Djibouti Produces Names of Suicide Bombers

Dalsan Radio, 31 May 2014

The Djibouti Attorney General Maki Abdulkadir announced the names of the persons who blew themselves up in Djibouti on 22 May. The Djibouti AG said the two were called Muuse Rooble… Read more »

Djibouti: Al-Shebab Claims Djibouti Bombing, Targets French

RFI, 29 May 2014

In Somalia al-Shebab has claimed responsibility for the weekend's two deadly bomb attacks on a Djibouti restaurant. Westerners, especially French commandos, were the target, the… Read more »

Djibouti: Ministry Condemnes Teror Attacks in Somalia and Djibouti

Ethiopia Government, 28 May 2014

The Foreign Ministry of the Federal Democratic Republic of Ethiopia has strongly condemned the attack on the Somali parliament building on Saturday 24 May 2014, in which eighteen… Read more »

Djibouti: Al Shabaab Claims Responsibility of Djibouti Explosion

Dalsan Radio, 28 May 2014

Al Shabaab said in a statement that it specifically targeted Westerners based in Djibouti. It accused the French -- who have a large military base in Djibouti -- of persecuting… Read more »

Djibouti: State Dept. On May 24 Al-Shabaab Attack in Djibouti

State Department, 27 May 2014

U.S. DEPARTMENT OF STATE Read more »

Djibouti: Statement By the EU High Representative On the Terrorist Attack in Djibouti

EU Navfor, 25 May 2014

"We strongly condemn the terrorist attack that targeted a restaurant in Djibouti Saturday evening. Our thoughts are with all the victims and their families, and we wish a full and… Read more »
InFocus
The member states of Intergovernmental Authority on Development have condemned Saturday's terrorist attack in the country's capital that left three people dead and 15 others ... Read more »