Will African Team Reach World Cup Final 4?
All the African sides are fielding players who ply their trade in the top leagues of Europe, so if one of them can get on a roll, one feels any has the potential to go deep into the tournament, writes Nick Said.


Africa: Will Africa Reach World Cup's Final Four?

allAfrica, 10 June 2014

Seven years after being awarded the rights to host the 2014 FIFA World Cup, Brazil will get the tournament under way on Thursday when they tackle Croatia in a Group A clash in Sao… Read more »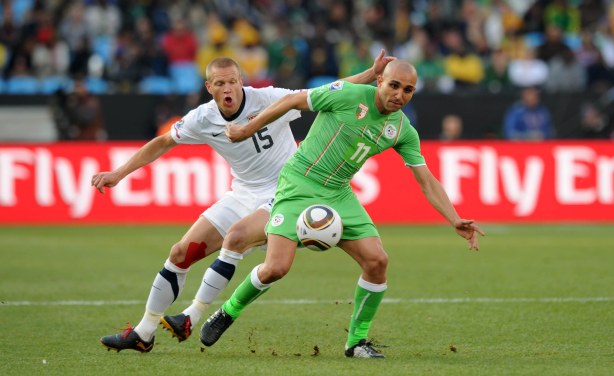 Rafik Djebbour of Algeria is challenged by Jay Demerit of United States (file photo).
Nigeria: Super Eagles Arrives Brazil Today

Independent (Lagos), 9 June 2014

Super Eagles will arrive in Brazil today for the 2014 World Cup that will kick off on Thursday, June 12. Read more »

Africa: 2014 World Cup Opening Fixtures

allAfrica, 10 June 2014

June 12: Brazil v Croatia (10pm) Read more »

Nigeria: 2014 World Cup - Eagles to Arrive in Brazil On Tuesday

Independent (Lagos), 9 June 2014

The Super Eagles will arrive in Brazil on Tuesday for the 2014 FIFA World Cup scheduled to begin on June 12, the Nigeria Football Association (NFA) said on Monday. Read more »

Ghana: Ayew and Ayew Prepare to Share the Stage

CAF, 10 June 2014

Abedi Ayew, known popularly as Abedi Pele, was undoubtedly one of the finest footballers ever to come out of Africa. During a career spanning some 20 years, the attacking… Read more »

Nigeria: Adefuye - Eagles Will Shock the World

Independent (Lagos), 8 June 2014

Nigeria's Ambassador to the United States, Prof. Ade Adefuye, has said that Super Eagles will shock the world in Brazil. Read more »

Africa: Ahead of World Cup, UN Hails Power of Sport to Bring Communities, Peoples Together

UN News, 9 June 2014

Just days away from the kick-off of the 2014 FIFA World Cup in Brazil, Secretary-General Ban Ki-moon hailed the "best values of sport" - teamwork, fair play and mutual respect - as… Read more »

Nigeria: Argentina Scared of Eagles - Coach Sabella

Independent (Lagos), 9 June 2014

Coach Alejandro Sabella has expressed the fear that his side will face a very physical Nigeria and Iran at the summer World Cup in Brazil. Read more »

Nigeria: Mikel, Enyeama Tip Nigeria for World Cup Glory

Independent (Lagos), 9 June 2014

Chelsea midfielder, John Obi Mikel believes the Super Eagles can punch above their weight at the 2014 Fifa World Cup finals in Brazil. Read more »

Ghana: Ayew Treble Sparks Ghana Over Korea Republic

CAF, 10 June 2014

Jordan Ayew scored three goals and Asamoah Gyan netted another on Monday in his return to the starting line-up as Ghana blanked South Korea 4-0 in a FIFA World Cup™ warm-up… Read more »

Kenya: TV Firms Cash in On World Cup for Sales

The Star, 10 June 2014

As the World gears up for the greatest single sporting event, Kenyan fans have not been left behind with sales for television sets going up while Pay TV service providers are… Read more »
InFocus
Africans are ready for the biggest event on the football calender after Cameroon and Nigeria successfully resolved bonus disputes that saw players threaten to boycott the 2014 ... Read more »

NIgeria's Super Eagles are a young side which needs polish but they continue to improve with every game and confidence should not be a problem, writes Nick Said for AllAfrica. Read more »

Ghana's Black Stars, regarded as the strongest of the five African qualifiers for the World Cup finals in Brazil, face a major challenge in getting to the next stage of the ... Read more »