Liberia Reports No New Ebola Cases
Deputy Health Minister Tolbert Nyenswah has announced that the country no longer has any remaining cases of the disease since the "last four" patients, who were infected in the latest outbreak, recovered.
Liberia: 'No New Ebola Case' - Govt

NEWS, 20 July 2015

The Liberian government says there is currently no new case of Ebola after the recovery of four remaining patients who were infected during the recent outbreak. However, the… Read more »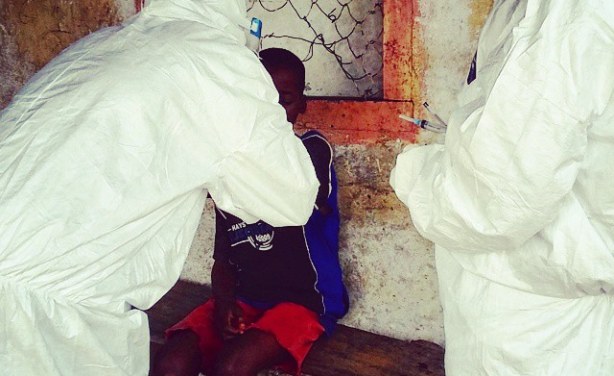 Liberian health workers take blood sample from a young boy in the area where a 17-year-old died of Ebola.
Liberia: Ebola Gone Again

New Republic, 21 July 2015

Liberia slipped off the trajectory of being Ebola free, a position it enjoyed for close two months after WHO declared it free of the virus on May 9, 2015, when a boy (deceased)… Read more »

Liberia: Herbalist Escapes Quarantine

New Republic, 17 July 2015

A herbalist, who treated the 17-year-old boywho became Liberia's first Ebola case to begin a third wave of the disease, has escaped quarantine and reportedly fled to Nimba County,… Read more »

Liberia: Honesty Key to Defeating Ebola - Dr. Kateh

LINA, 14 July 2015

The Chief Medical Officer of Liberia, Dr. Francis Kateh, has observed that the fight to contain the Ebola virus can only be successful if contacts undergoing observation are… Read more »

Liberia: Suspected Ebola Case Hikes

NEWS, 15 July 2015

Authorities at the Ministry of Health have reported that 140 persons suspected of the Ebola Virus Disease (EVD) are being monitored in Montserrado and Margibi Counties. Read more »

Liberia: Commissioner Vows to Stall Ebola Entry Into Salayea

LINA, 19 July 2015

Salayea District Commissioner Galakpayan Barkolleh has vowed to put in place measures to ensure that the Ebola virus does not enter his district. Read more »
InFocus
Health officials say the country now has the capability to "adequately put the situation under control", urging Liberians not to panic. Read more »

Health authorities reported new cases of Ebola in Freetown, dashing hopes that the densely populated city had beaten the epidemic. Read more »

The World Health Organization has been criticised for its early assurances that the disease was under control despite repeated warnings to the contrary. Read more »