African Migrants to Europe - Payback Time?
While most Africans fleeing repression or seeking opportunity go to another African country, the large outlfow to Europe is likely to grow larger, Economic Commission for Africa Executive Secretary Carlos Lopes warns in his latest blog. With Africa experiencing rapid population growth and an explosion in youth unemployment, the result will likely be "a much bigger flow of young Africans looking for opportunities in an ageing Europe."
Africa: African Migrants: Payback Time?

Economic Commission for Africa, 31 August 2015

Since the beginning of this year a relentless flow of images from the Italian island of Lampedusa, the city of Calais where the Eurotunnel starts, Bodrum in Turkey, the eastern… Read more »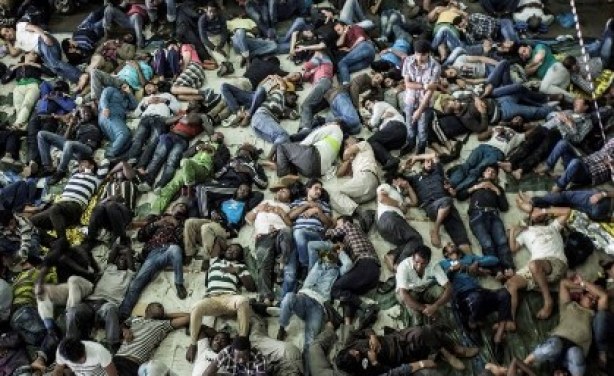 Rescued migrants sleep after being plucked from a boat off the coast of Italy in summer 2014. Most boat arrivals in 2014 were asylum seekers from Syria, Eritrea and elsewhere.
Africa: Europe Squabbles While Refugees Die

IPS, 30 August 2015

As tens of thousands of refugees continue to flee conflict-ridden countries, including Afghanistan, Iraq, Libya and Syria, Western European governments and international… Read more »

Africa: Deadly Mediterranean Crossings Eclipse 300,000 - UN Refugee Agency

UN News, 28 August 2015

The United Nations refugee agency said today that the number of refugees and migrants crossing the Mediterranean to reach Europe has surpassed 300,000 this year, up from 219,000… Read more »

Africa: Ban Urges Expansion of Safe, Legal Channels of Migration

UN News, 28 August 2015

In the wake of the grim discovery of the bodies of more than 70 people inside a truck abandoned near Austria's border with Hungary, Secretary-General Ban Ki-moon today urged the… Read more »

Africa: UNHCR Viewpoint - 'Refugee' or 'Migrant' - Which Is Right?

UNHCR, 27 August 2015

With almost 60 million people forcibly displaced globally and boat crossings of the Mediterranean in the headlines almost daily, it is becoming increasingly common to see the terms… Read more »

Africa: Refugee, Asylum Seeker, Migrant. What's the Difference?

Thomson Reuters Foundation, 26 August 2015

Europe is grappling for answers to its worst refugee crisis since World War Two with the crisis testing the unity of the 28-nation European Union and fuelling anti-immigration… Read more »

Africa: Mediterranean Crisis - Refugee and Migrant Number Highest On Record

Ethiopian Herald, 2 July 2015

The large majority of the 137,000 people who crossed the Mediterranean Sea into Europe during the first six months of 2015 were fleeing from war, conflict or persecution, making… Read more »
InFocus
"It is clear that Europe has the capacities and the size needed to meet the challenges, assuming that it shows unity and jointly assume this responsibility," says the UN High ... Read more »

The Italian Navy rescued 320 migrants from a smugglers' boat, while other people who were stuck in the hold died. Read more »