Ouattara Wins Cote d'Ivoire's Vote in Landslide
The country's electoral commission has announced that incumbent President Alassane Ouattara won 83.6 percent of the vote. He needed more than 50 percent to avoid a runoff.
Cote d'Ivoire: Ouattara Wins in Landslide

Deutsche Welle, 28 October 2015

Ivorian President Ouattara has been re-elected for a second five-year term in office. The 73-year-old incumbent garnered almost 84 percent of the vote. He commended his countrymen… Read more »

Cote d'Ivoire: Nation Eagerly Awaits Election Results

Deutsche Welle, 27 October 2015

Incumbent President Alassane Ouattara is tipped to win the presidential election in Ivory Coast, but results are not in yet. Still, one important albeit preliminary figure has been… Read more »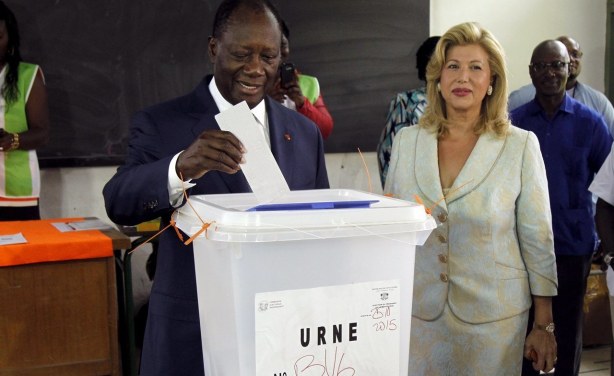 President Ouattara, accompanied by wife Dominique Folloroux-Ouattara, casts his vote. He is likely to win a second term.
Cote d'Ivoire: Turnout Decisive in Ivory Coast Vote

Deutsche Welle, 26 October 2015

Votes are being counted in an election in Ivory Coast seen as crucial to national recovery from years of violence and upheaval. President Alassane Ouattara is hoping for… Read more »

Cote d'Ivoire: President Poised to Cement Power in Vote

Al Jazeera, 25 October 2015

Ivory Coast is voting in a presidential election likely to give President Alassane Ouattara a second term, an event that is closely watched by investors after a decade-long… Read more »

Cote d'Ivoire: Peace-CI Opens Cote d'Ivoire's Largest Election Situation Room

, 24 October 2015

Peace-CI, an Ivorian coalition comprised of over 800 civil society members, launches the country's largest Election Situation Room (ESR) at Tiama Hotel in Abidjan this afternoon,… Read more »

Cote d'Ivoire: Social Cohesion At the Ballot Box

Al Jazeera, 25 October 2015

Schools re-opened a month ago but many pupils at the Saguidiba high school in Yopougon, Abidjan's largest neighbourhood, have yet to return. Read more »

Cote d'Ivoire: Nation Votes in First Post-War Presidential Poll

RFI, 25 October 2015

Côte d'Ivoire's incumbent president Alassane Ouattara is favourite to win a second term in a vote on Sunday. Read more »

Cote d'Ivoire: Ivory Coast's Comeback

Al Jazeera, 23 October 2015

Ivory Coast is no longer reeling from violence, it's now well and truly on its way back up. Read more »

Cote d'Ivoire: Polls Open in First Elections Since War

AEP, 25 October 2015

Polls have opened as Ivorians vote in a presidential election many believe will probably see incumbent Alassane Ouattara's term renewed. Read more »

Cote d'Ivoire: UN Chief Urges Peaceful, Transparent Polls

UN News, 23 October 2015

United Nations Secretary-General Ban Ki-moon is closely following developments in Côte d'Ivoire ahead of this weekend's presidential elections and has welcomed the commitment… Read more »

Cote d'Ivoire: Heading to 'Watershed' Presidential Polls

SAIIA, 23 October 2015

After relatively peaceful elections in Guinea-Conakry returned outgoing President Alpha Conde to power last week in the first round of voting, another West African country Cote… Read more »

Cote d'Ivoire: Presidential Election - What's At Stake for Stability?

ISS, 23 October 2015

On Sunday, 25 October, Ivorians will go to the polls to elect their president. In 2010, the elections had plunged Côte d'Ivoire into an armed conflict resulting in 3 000… Read more »

Cote d'Ivoire: Journey to Democracy - an Under-Reported Good News Story

The Conversation Africa, 21 October 2015

Ivory Coast is rapidly becoming a politically capable democracy - one able to inspire and partner with its neighbours in recovering from decades of chaos and state collapse. It is… Read more »

Cote d'Ivoire: The High Stakes and Low Suspense of the Upcoming Elections

African Arguments, 19 October 2015

When Ivoirians go to the polls this Sunday, only one outcome looks likely. However, that doesn't mean the country is united. Read more »

Cote d'Ivoire: Ivorian Civil Society Coalition Pushes for Peaceful Elections with Largest Election Situation Room

, 21 October 2015

Peace-CI, an Ivorian coalition comprised of over 200 civil society members, are helping ensure peaceful and credible elections during the upcoming presidential elections by… Read more »

Africa: An Early Warning Ahead of High-Risk Elections

ISS, 15 October 2015

Recent events in Burkina Faso, following the 16 September coup d'état, are a grim reminder of what can happen when the run-up to crucial presidential elections goes awry. Read more »

Cote d'Ivoire: Why Cote d'Ivoire Should Plan for Peaceful Elections--Now and in the Future

HRW, 12 October 2015

Ivorians will vote on October 25 in the first presidential election since November 2010, when the refusal of then-president Laurent Gbagbo to cede power to current president… Read more »

Cote d'Ivoire: Japan Renews Its Support for the Elections in Côte d'Ivoire

UNDP, 9 October 2015

The Government of Japan has granted an additional contribution of US$1.6 million for the 25 October elections in Côte d'Ivoire. This contribution will enable the Independent… Read more »

Africa: High Stakes As Elections Loom

ISS, 6 October 2015

The African Union's (AU) early warning system will be working overtime in the next few weeks as Africa heads into a series of high-risk elections. Read more »

Cote d'Ivoire: Electoral Body Employs Technology to Fight Electoral Fraud

AEP, 30 September 2015

To ensure transparency of the upcoming presidential election and prevent the renewal of past mistakes, the Independent Electoral Commission (IEC) of Cote d'Ivoire is resorting to… Read more »

Cote d'Ivoire: Opposition March Against State Broadcaster to Demand Equal Access

MFWA, 30 September 2015

On September 28, 2015, the Ivoirian opposition organised a march against the state broadcaster, Radiodiffusion Télévision Ivoirienne (RTI) to denounce what they… Read more »
InFocus
"This is a decisive moment for democracy in Africa," U.S. Secretary of State John Kerry says in an AllAfrica guest column. "In Africa, as elsewhere, there is a deep hunger for ... Read more »

Voting took place on December 11, in the first legislative elections since the crisis that followed Laurent Gbagbo's refusal to stand down. Read more »