Could a Liberian Woman Have Survived Ebola Twice?
47-year-old Gloria, whose town in northern Liberian was badly hit by the Ebola outbreak, believes she experienced a resurgence of the virus last year, just as the global health community grapples with questions surrounding a possible relapse of Scottish nurse Pauline Cafferkey.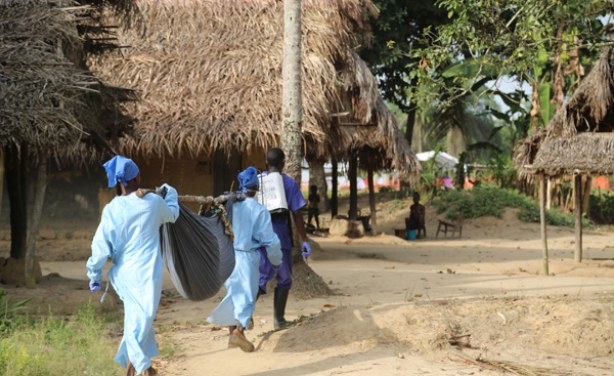 An MSF team carries a suspected Ebola patient from a remote hamlet (file photo).
Sierra Leone: Ebola Survivors Should Not Be Stigmatized - President Koroma

Sierra Leone Government, 20 October 2015

President Dr Ernest Bai Koroma 17 October continued his social mobilization to Kambia and Port Loko Districts to finally flush the Ebola virus disease in the country. Read more »

West Africa: Ebola Virus Persists in Body Fluids of Survivors for Months - UN Health Agency

Global Ebola Response, 15 October 2015

The Ebola virus can persist in the eye, semen, the placenta, breast milk and central nervous system of survivors of the disease for as long as 9 and a half months, according to a… Read more »

Sierra Leone: Preliminary Finds About Ebola Virus Fragments

Sierra Leone Government, 15 October 2015

Preliminary results of a study into persistence of Ebola virus in body fluids show that some men still produce semen samples that test positive for Ebola virus nine months after… Read more »

Nigeria: Ebola Survivors Can Harbour Virus in Semen for At Least Nine Months - Experts

Guardian, 15 October 2015

Ebola virus can exist in the semen of male survivors of the disease for at least nine months after their initial infection appears, much longer than previously thought, scientists… Read more »

Nigeria: Ebola Survives in Semen for Nine Months, Says Study

Daily Trust, 15 October 2015

Semen of men who have had Ebola can still contain the virus up to nine months after the start of symptoms, preliminary results of a new study have shown. Read more »

Nigeria: Ebola Resurgence - Treated British Ebola Nurse Now Critically Ill

Vanguard, 14 October 2015

A British nurse who was successfully treated in January after contracting Ebola in Sierra Leone is now "critically ill" due to a resurgence of the virus, the hospital treating her… Read more »

West Africa: Surviving Ebola, Battling Post-Ebola Syndrome

Ebola Deeply, 9 October 2015

Scottish nurse Pauline Cafferkey is being treated for serious post-Ebola complications at the Royal Free Hospital in London. In Liberia, Sierra Leone and Guinea, many Ebola… Read more »

West Africa: Mother-Baby Transmission - a Rare Case of Neonatal Ebola

Ebola Deeply, 28 September 2015

There's still much that the medical community does not know about Ebola, such as the long-term impact on survivors, and the subtleties of bodily fluid transmission. Ebola Deeply… Read more »
InFocus
Beyond psycho-social problems related to stigma and post-traumatic stress disorder, more than half of survivors say they are suffering from debilitating joint pain, headaches, and ... Read more »

The U.S. Centers for Disease Control has recommended that contact with the semen from male Ebola survivors be avoided until more information regarding the "duration and ... Read more »