DR Congo Humbles Mali to Lift CHAN Title Again
A brace from Mechak Elia and the other by Jonathan Bolingi was all DR Congo needed to beat Mali and cruise to their second African Nations Championship title.
Africa: DR Congo Are CHAN 2016 Champions!

New Times, 8 February 2016

DR Congo are the Orange African Nations Championship (CHAN) 2016 winners, thanks to an emphatic 3-0 victory over Mali in an entertaining final on Sunday in a fully packed Amahoro… Read more »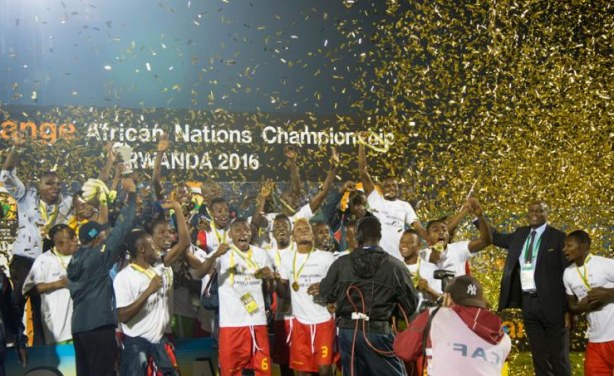 DR Congo's Leopards celebrating winning CHAN 2016 trophy in Rwanda.
Congo-Kinshasa/Malawi: Reactions - DR Congo 3-0 Mali

CAF, 7 February 2016

Djbril Drame (Head Coach, Mali) Read more »

Congo-Kinshasa/Mali: DRC Are CHAN2016 Champions

New Times, 7 February 2016

Half time here at Amahoro Stadium in Kigali where the CHAN2016 final is taking place. DRC 1-0 Mali Read more »

Congo-Kinshasa/Mali: DR Congo Are CHAN 2016 Champions

New Times, 7 February 2016

A brace by Mechak Elia and another goal from Jonathan Bolingi was enough to crown the Democratic Republic of Congo (DRC) champions of the 2016 Orange African Nations Championship… Read more »

South Africa/Rwanda: Bennett, Khumalo to Officiate CHAN Final in Rwanda

SAFA, 5 February 2016

While the South African public has been hard on local match officials, CAF has continued to see value in them and Sunday sees referee Daniel Bennett assigned to take charge of the… Read more »

Congo-Kinshasa: We Will Shock DRC, Says Mali Head Coach

New Times, 6 February 2016

Mali head coach Djibril Drame has said his side is capable of shocking favourites DR Congo to lift the 2016 Africa Nations Championship (CHAN) title on Sunday at Amahoro National… Read more »

Congo-Kinshasa/Mali: Mali Stands in Way of DR Congo's Second CHAN Title

New Times, 7 February 2016

The Democratic Republic of Congo takes on Mali in the final of the 2016 African Nations Championship (CHAN) on Sunday at at Amahoro National Stadium, seeking to become the first… Read more »

Mali: It's Do or Die As Mali Face DR Congo in Chan Final

New Times, 6 February 2016

The Democratic Republic of Congo and Mali will lock horns in a do or die encounter in the 2016 Africa Nations Championship (CHAN) title match on Sunday evening at Amahoro National… Read more »

Mali/Congo-Kinshasa: Three-Star DR Congo Wins Second CHAN Title

CAF, 7 February 2016

A brace from Mechak Elia and the other by Jonathan Bolingi was all DR Congo needed to beat Mali 3-0 in the final on Sunday and cruise to their second African Nations Championship… Read more »

Congo-Kinshasa/Mali: What the Coaches Say Ahead of the Final

CAF, 6 February 2016

Ahead of Sunday's final, CAFonline.com caught up with the coaches of the two sides, DR Congo and Mali and their expectations. The match will take place on Sunday, 7 February 2016… Read more »

Mali/Cote d'Ivoire: Bissouma Inspires Mali to CHAN Final

New Times, 5 February 2016

Midfielder Yves Bissouma came off the bench to score a late winner as Mali defeated Ivory Coast 1-0 in the second semi-final of the ongoing Africa Nations Championship (CHAN) on… Read more »

Congo-Kinshasa/Guinea: Ibenge Hails Les Leopards' Fighting Spirit

New Times, 5 February 2016

The Democratic Republic of Congo head coach Jean-Florent Ibenge has praised his side after beating Guinea in the semi-finals of the 2016 Africa Nations Championship (CHAN) at… Read more »

Congo-Kinshasa/Ethiopia: Congo Dismiss Favourites Tag

Monitor, 5 February 2016

Since their opening two matches the going African Nations Championship (Chan) where they left Ethiopia and Angola on the wayside, Democratic Republic of Congo (DRC) have been… Read more »

Mali/Cote d'Ivoire: Mali Leaves It Late to Reach Final

CAF, 4 February 2016

Substitute Yves Bissouma scored the winner two minutes from time to send Mali into the final at the expense of Cote d'Ivoire in their semi-final match on Thursday in Kigali. Read more »

Uganda: African Coaches Prove Their Worth in Chan

Monitor, 4 February 2016

Debate over whether African coaches should be considered more when it comes to managing national teams will not go away. It has come up at every Nations Cup, where foreign managers… Read more »

Uganda/Mali: Mali, Ivory Coast Vie for Final Ticket

Monitor, 4 February 2016

The target is, of course, the same when Mali and Ivory Coast line up against each other in the last semifinal clash at Stade Régional Nyamirambo, Kigali this evening. To… Read more »

Mali/Rwanda: Mali Coach Warns Ivory Coast

New Times, 3 February 2016

Mali head coach Djibril Drame has said he's not worried facing strong favourites Ivory Coast in the semi-finals of the ongoing Africa Nations Championships (CHAN). Read more »