Tough Task Awaits Super Eagles in Egypt
The Super Eagles will need to work overtime if they are to overpower the Pharaohs in Cairo.
Nigeria/Egypt: Eagles Set for Make-or-Mar Clash Against Pharaohs

Premium Times, 29 March 2016

After failing to get the desired win during Friday's home clash against the Pharaohs of Egypt in their 2017 Africa Cup of Nations qualifying match, the Super Eagles are condemned… Read more »

Nigeria: Egypt V Nigeria - Winner Takes All

Vanguard, 29 March 2016

Tonight, in far away Alexandria, Egypt, two African giants, the Super Eagles and Pharaohs of Egypt will clash at the Borg El Arab stadium as they aim to qualify for the 2017 AFCON… Read more »

Nigeria/Egypt: FIFA May Come to Nigeria's Rescue, As Court Dissolves Egypt FA

Guardian, 28 March 2016

Even with the Super Eagles yet to kick off their crunch qualifier against Egypt today, some Nigerians have started praying for world football governing body, FIFA, to throw out the… Read more »

Nigeria/Egypt: Egypt Unleashes 40, 000 Fans On Eagles, As Cuper Aims to Rout Nigeria

Guardian, 29 March 2016

Egypt Coach, Hector Cuper, says nothing will stop the Pharaohs from recording a comprehensive victory over Nigeria when they meet in an African Nations Cup qualifier today. Read more »

Nigeria/Egypt: Super Eagles Confronts Egypt in Battle of Blood and Thunder

This Day, 29 March 2016

The Super Eagles face an uphill task in their bid to reach the Africa Cup of Nations in Gabon next year, when they meet Egypt in a Group G fixture in Alexandria this evening. Read more »

Egypt/Nigeria: Why Eagles Flopped Against Egypt, and How They Can Win Return Leg

Premium Times, 28 March 2016

After the disappointment of losing three points against Egypt on Friday, the Super Eagles' handlers and players must focus on the second leg coming up in Alexandria on Tuesday. Read more »

Nigeria/Egypt: Amuneke Admits Tough Test in Alexandria

CAF, 28 March 2016

Nigeria Assistant coach, Emmanuel Amuneke has told CAFOnline.com that no quarter would be asked and none would be given when the Super Eagles battle Egypt on Tuesday, 29 March 2016… Read more »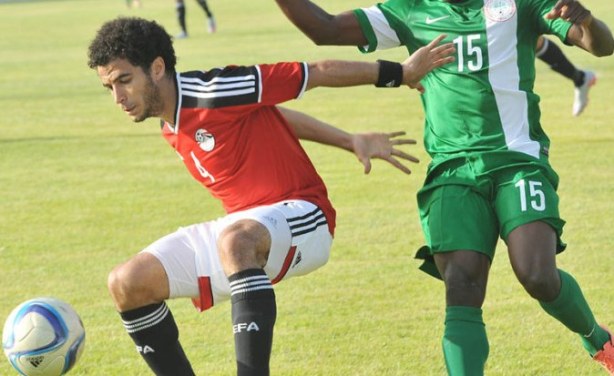 A late equalizer by Muhammad Salah poisoned the atmosphere for the Nigerian fans.
Nigeria/Egypt: We Are Destined to Win - Mikel

Guardian, 28 March 2016

Super Eagles' Captain, John Mikel Obi, has assured Nigerians that they would get a good result against Egypt in the reverse leg of their Gabon 2016 African Nations Cup qualifier in… Read more »

Nigeria: Igbinoba Supports Eagles' Optimism

Guardian, 28 March 2016

Former Golden Eaglets star, Victor Igbinoba, has said that the draw the Pharaohs of Egypt played with the Super Eagles in the AFCON qualifier at the Ahmadu Bello Stadium, Kaduna,… Read more »

Nigeria: Don't Write Us Off, Eagles Tell Nigerians

Guardian, 28 March 2016

Though some Nigerians have written off the Super Eagles chances of qualifying for the 2017 AFCON in Gabon, following last Friday's 1-1 draw with the Pharaohs of Egypt in Kaduna,… Read more »

Nigeria/Egypt: The Fallout of Super Eagles v Egypt's Pharoahs

This Day, 28 March 2016

The Nigeria Football Federation (NFF) has cleverly absolved itself of any liability arising from overcrowding and security breaches witnessed in Kaduna on Good Friday when Nigeria… Read more »

Egypt/Nigeria: Afcon 2017 - Egypt Beatable in Alexandria, Ighalo Boasts

This Day, 27 March 2016

Watford striker Odion Ighalo has said he believes Nigeria could still get the victory they desperately need against Egypt on Tuesday to stay on course for next year's AFCON in… Read more »

Nigeria/Egypt: Eagles to Face 20,000 Egyptian Fans

Vanguard, 27 March 2016

More than 40,000 spectators witnessed the encounter between the Super Eagles and the Pharaohs of Egypt at the Ahmadu Bello Stadium in Kaduna on Friday evening. It is envisaged that… Read more »
InFocus
Italy-based forward Mohammed Salah grabbed a late equaliser to cancel out a 60th minute opener by Nigeria's Etebo Oghenekaro. Read more »