Content from our Premium Partner
African Development Bank (Abidjan)
54 African Artists. 54 Works. Inspiration: 'Illuminated Africa'
54 works of art by 54 contemporary African artists, one from each African country. Their source of inspiration: lighting up the African continent. Under the auspices of the African Development Bank Group and African Artists for Development (AAD), the travelling exhibit, "Lumières d'Afriques", opened its doors on Wednesday, April 27 at the Donwahi Foundation for contemporary art in Abidjan. More about the AfDB in this BRIEFING.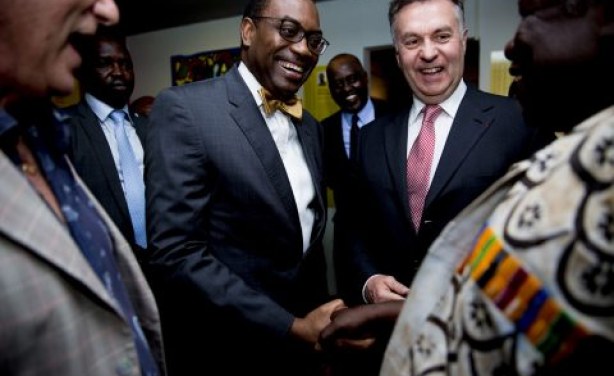 President of the Africn Development Bank (AfDB) Akinwumi Adesina (center) and co-president of African Artists for Development (AAD), Matthias Leridon, greet the acclaimed Ghanaian coffin artist Paa Joe at the opening of the "Lumières d'Afriques" ("African Lights") exhibition held at the Donwahi Foundation for Contemporary Art in Abidjan, under the auspices of the AfDB and the AAD.
Artists Malala Andrialavidrazana (Madagascar) and Paa Joe (Ghana). Andrialavidrazana's photography explores links between architecture, contemporary art and anthropology, while calling into question, among other things, the city and its social structure. Paa Joe is a pioneer in Ghanaian whimsical coffin art. His works are subtle contemporary representations of traditional funeral ritual practices, which blur the lines between art and artisanal craft.

Photo: AfDB

Nyaba L.Ouedraogo's (Burkina Faso) photography combines both an aesthetic and documentary approach. His photographs, which undermine the contemporary vision of Africa inherited from the colonial era, represent a real social insight on the continent.

Jean-Sevais Somian, an Ivory Coast-based designer, cabinetmaker and sculptor, whose original furniture are all the rage in Abidjan.
Photo: AfDB

Leslie Lumeh is a painter from Liberia. His figurative pieces shows a realist vision of landscapes and the urban environment, in which he lives. In 2008, on his return from exile in the Ivory Coast (1997 -2005), Leslie Lumeh created the Art of the Heart Gallery, the first gallery to open after the civil war. He is the founder of the first visual art school in Monrovia, LiVArts, and president of the Liberia Association Inc. (LAA), an organization devoted to the advancement of art in Liberia.

As a major figure in the Kinshasa art scene, Steve Bandoma works are the result of a masterful mixture of paint and ink projection, graduated chromatic textures made of watercolor, collages of images taken from magazines, advertisements and photographs, as well as background motifs written and drawn. He creates a new genre of portraits, mutant beings incarnating the restlessness of a modern urban society in constant transformation.

Paul Sika's works combine photography and film. His vibrant and colorful photographs have attracted the attention of the media and numerous art collectors.
InFocus
"African food is amazing and so diverse... but it is very underrated," says South African chef Mokadi Itsweng. Mokadi, part of a growing number of African chefs and food ... Read more »

As development experts and world leaders gather in Washington, DC, for the 2016 IMF Spring Meetings, the president of the African Development Bank (AfDB), Akin Ade Read more »