'21 Parties a Lot for Liberia' - Elections Commission Chief
Jerome Korkoya has said it is easy to form a political party in the country "because those who wrote the constitution drew from their own experiences".
Liberia: 21 Political Parties 'A Lot for Liberia'

Observer, 8 February 2017

National Election Commission (NEC) Chairman, Cllr. Jerome G. Korkoya, yesterday openly confessed that, with 21 political parties now certificated and accredited for the 2017… Read more »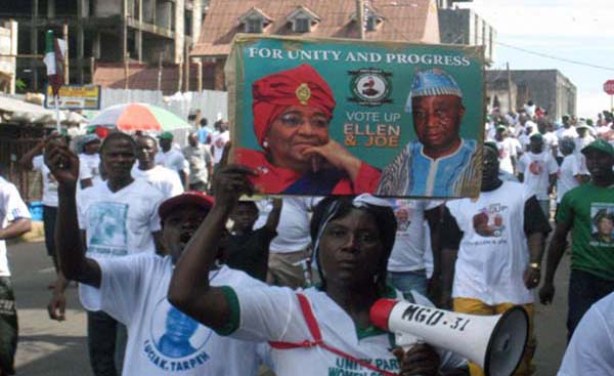 The launch of the ruling Unity Party campaign in 2011.
Liberia: CDC Certified for 2017

NEWS, 5 January 2017

The National Elections Commission (NEC) has certified the Coalition for Democratic Change (CDC) to contest the 2017 Presidential and Legislative Elections. Read more »

West Africa: Ecowas to Assist Liberia's Elections in 2017

Observer, 20 December 2016

With presidential and legislative elections scheduled in Liberia in October 2017, ECOWAS Heads of State and Government have directed the ECOWAS Commission to provide the necessary… Read more »

Liberia: NEC, Political Leaders, Partisans Must Take Cue From Ghana

FrontPageAfrica, 14 December 2016

EMBODYING THE SPIRIT of a true African statesman a' la Nelson Mandela of South Africa and Kenneth Kaunda, Ghanaian outgoing President, John Dramani Mahama, phoned in his rival,… Read more »
InFocus
Meeting in the northern town of Ganta, the parties pledged not to attack one another. Read more »

One of the supporters of the "democratic sustenance" bill, which when enacted will ensure funding for political parties whose votes in future elections reach a certain threshold, ... Read more »