How the Landscape Has Changed in Search for Breast Cancer Cure
Ronald Wasike, from the Aga Khan University, has been involved in cancer research for the past 12 years, specifically looking at advances in breast cancer treatment - and has now written a book called Breast cancer: what we all need to know. Here he writes about how hopeful he is for cure...
Africa: How the Landscape Has Changed in the Search for a Cure for Breast Cancer

The Conversation Africa, 31 January 2017

Today nearly every women's magazine carries articles on breast cancer. The month of October - as the official breast cancer awareness month - brings thousands of people together… Read more »

East Africa: Experts Call for Early Cancer Screening, Opinion Divided On Better Methods

East African, 16 February 2017

As the world marked the World Cancer Day on February 4, this time under the theme "We can, I can," the appropriate screening methods remained contentious. Read more »

Africa: Want to Prevent Stroke, Diabetes, Cancer? Get Moving... Now!

IPS, 2 February 2017

Tired, lazy, bored, laying down long hours watching TV or seated checking your email? Wrong. And dangerous: not enough exercise contributes to cancer, diabetes, depression and… Read more »

Liberia: Dr. Barnes Wants Cancer Fight Enforced

Observer, 3 February 2017

Dr. Dawn Cooper Barnes, President of the Liberia Cancer Society (LCS), has called on Liberians to join the fight against cancer in order to reduce the prevalence and death rate of… Read more »

Nigeria: Atrociousness of Cancer On Nigerian Women

This Day, 19 January 2017

Odimegwu Onwumere writes that cervical and breast cancers are undermining the development of women in Nigeria with over 9,000 of them dying yearly from the scourge, and if… Read more »

Nigeria: First Lady Tasks Citizens On Breast Cancer

Daily Trust, 10 December 2016

The wife of the President, Hajiya Aisha Muhammadu Buhari has urged Nigerians not to relent in their support for the Internally Displaced Persons (IDPs) as government cannot cater… Read more »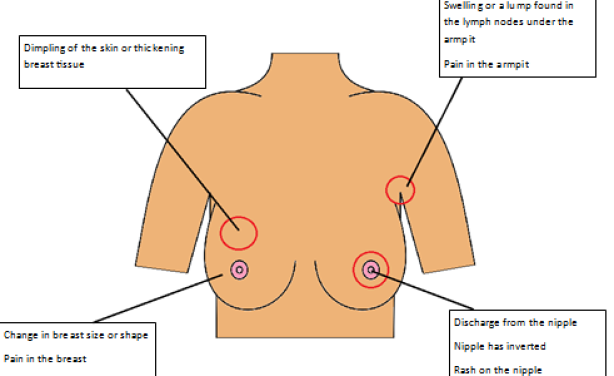 When checking your breasts there are a number of signs and symptoms to look for...