Namibian Leader Presents State Of Nation Address
In his annual address, President Hage Geingob outlined his policies on the economy, education, land, transparency, corruption and the progress of state programmes." The majority of Namibians remain structurally excluded from meaningful participation in the economy," the President said, reiterating his commitment to eliminating poverty, adding: "inclusivity ensures harmony and exclusivity brings discord."
Namibia: State of The Nation Address

Government of Namibia, 13 April 2017

Honourable Professor Katjavivi, Speaker of the National Assembly and Mrs Katjavivi,Honourable Mensah-Williams, Chairperson of the National Council and Mr. Williams,Right Honourable… Read more »

Namibia: Geingob Succeeding at Good Governance

New Era, 13 April 2017

Yesterday's State of the Nation Address (SONA) by President Hage Geingob suggests his administration has made great inroads on governance – probably outscoring… Read more »

Namibia: SONA 2017 - Airport Deal Back On

Namibian, 13 April 2017

GOVERNMENT has restarted a "transparent and cheaper" tender process for the construction of the Hosea Kutako International Airport, while officials implicated in alleged… Read more »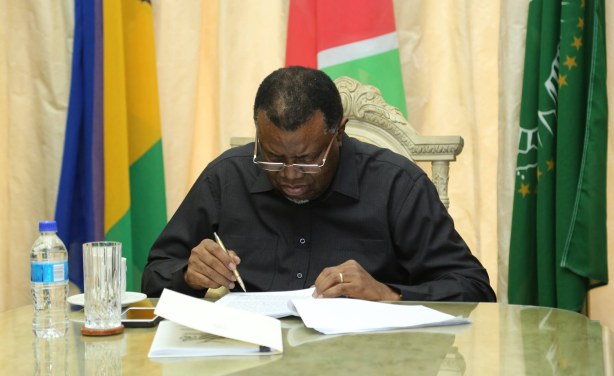 President Hage Geingob puts the final touches to the #NAMSONA17 with his advisors.
InFocus
This is George Bush's seventh visit to the African continent but his first trip to Namibia and second trip to Botswana since he left office. A major focus on the trip was viewing ... Read more »