Malaria #EndItForGood - What Africa Needs to Do
There has been some improvement in the reduction of malaria cases since 2010 but Africa needs to urgently put a number of additional measures in place to move towards eliminating the disease, writes Willis Simon Akhwale for The Conversation.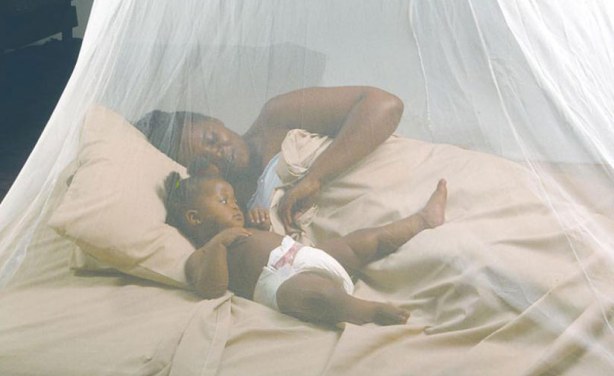 A mother and her child sleep under a mosquito net. This is one of the methods to fight against malaria (file photo).
Kenya: Kenyan Study Shows Why Reusing Old Mosquito Nets Should Be Encouraged

The Conversation Africa, 24 April 2017

Treated mosquito nets are vital in the fight against malaria. But the average lifespan of a net is about four years. The Conversation Africa's Health and Medicine Editor Joy Wanja… Read more »

South Africa: Mosquito Discovery Sheds Light On How Malaria Is Spread in South Africa

The Conversation Africa, 24 April 2017

Across the world there are limited tools available for controlling mosquitoes. The two most successful and widely used initiatives are indoor house spraying and the use of… Read more »

Kenya: WHO Wants Countries to Scale Up Efforts to Prevent Malaria

Nation, 24 April 2017

Kenya joins the world on Tuesday in commemorating the 10th World Malaria Day as the World Health Organisation (WHO) calls on countries to scale up efforts to prevent and eliminate… Read more »

Africa: Africa to Pilot World's First Malaria Vaccine

Deutsche Welle, 24 April 2017

Programs beginning next year in Ghana, Malawi and Kenya will test the vaccine's effectiveness in children. The trial was announced ahead of World Malaria Day (25.04.2017). Read more »

Rwanda: Malaria Still a Major Cause of Poverty - Officials Warn

New Times, 25 April 2017

There is need for continued investment and sustained political commitment in malaria prevention and control to curb the disease's contribution to poverty, especially in sub-Saharan… Read more »

Africa: Ending Malaria Is a Sound Investment

New Times, 25 April 2017

Today is World Malaria Day, a time to celebrate all of the progress we've made in fighting this deadly disease, and an opportunity to recommit ourselves to eliminating it once and… Read more »

Africa: WHO - Malaria Vaccine to Be 'Real Life' Tested in Africa

Al Jazeera, 24 April 2017

The world's first malaria vaccine will be available in selected areas of Ghana, Kenya and Malawi from 2018, according to the World Health Organisation (WHO). Read more »

Ghana: First Malaria Vaccine to Be Rolled Out in Kenya, Ghana and Malawi

Nation, 24 April 2017

Kenya will be among three African countries selected by the World Health Organisation (WHO) to introduce the world's first malaria vaccine. Read more »
InFocus
The Minister of Health Prof Isaac Adewole says that although the country's Malaria Strategic Plan has been lauded for being focused and articulate, resources to control malaria are ... Read more »