Excitement Builds for World U-18 Athletics Meeting in Kenya
The first of the close to 3,000 athletes and officials from 131 countries have started flocking to Nairobi for the International Association of Athletics Federation event that runs from July12-16. Governor Evans Kidero says the country would earn up to U.S.$50 million in revenue and an additional equity in terms soft income in advertising and exposure.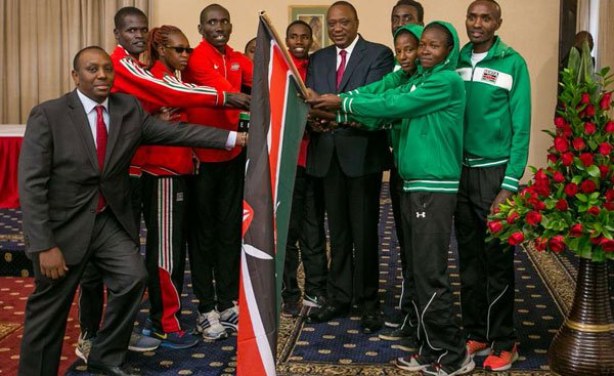 President Uhuru Kenyatta meets members of the teams that will represent Kenya in upcoming athletics events. They met at State House in Nairobi on July 8, 2017.
Kenya: Excitement Builds for World U-18 Athletics Meeting

Nation, 10 July 2017

Excitement is building up ahead of the 10th edition of the athletics World Under-18 Championships on Wednesday at Moi International Sports Complex, Kasarani. Read more »

Kenya: Finally, It's Time to Shine in Youth Athletics Championships

Nation, 10 July 2017

From 9.30am on Wednesday, Kenya will host the world's finest young track and field athletes at Kasarani for the 10th IAAF World Under-18 Championships. Read more »

Kenya: World Under-18 Championships - 800m Kenya's Forte

Nation, 9 July 2017

Since Nicholas Wachira claimed victory for Kenya at the inaugural 1999 World Under-18 Championships in Poland, the country has gone on to dominate the boys' 800m races in five more… Read more »

Kenya: Germany Have 'Biggest Squad' at Kasarani

Nation, 7 July 2017

Germany and People's Republic of China will have the largest contingents at the World Under-18 Championships in athletics that starts on Wednesday at the Moi International Sports… Read more »

Kenya: U-18 Caravan Snakes Through Kericho, Kisii

Nation, 7 July 2017

The IAAF World Under-18 Championships caravan traversed Nyamira, Kisii and Kericho counties Thursday. Read more »

Kenya: All Systems Go As Nairobi Prepares to Host the World

Nation, 6 July 2017

After months of speculation, doubts and anxiety, the World Under-18 Championships is finally here. Read more »

Kenya: Margaret Kenyatta - We're Ready to Host the World

Nation, 4 July 2017

First Lady Margaret Kenyatta has declared Kenya ready to host the global athletics fraternity for the World Under-18 Championships starting next Wednesday at Kasarani. Read more »

Kenya: Polish Athletes Jet in for Global Championship

Nation, 4 July 2017

Poland will be the first team to arrive in the country today for the World Under-18 Athletics Championships planned for July 12-16 at Moi International Sports Centre, Kasarani. Read more »
InFocus
The IAAF World Under-18 Championships Nairobi 2017 will be the first global track and field championships to be held in Kenya. The event will run from July 12-16 at the Moi Sports ... Read more »