Poor Rains in East Africa Worsen Hunger
The number of people in need of humanitarian assistance currently estimated at about 16 million, has increased by about 30% since late 2016. The most affected areas are central and southern Somalia, South-Eastern Ethiopia, northern and eastern Kenya, northern Tanzania and north-eastern and South-Western Uganda, according to a new alert by the UN Food and Agriculture Organization.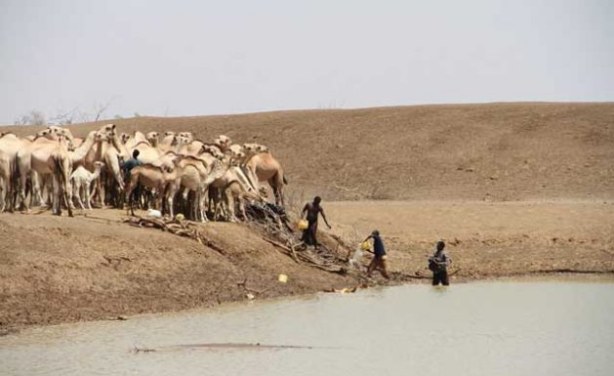 Herders collect water with camels at one of the few remaining water points in drought-affected Bandarero village, Moyale County, Kenya.
East Africa: Rains Fail Again in East Africa, Hunger On the Rise - U.N.

Thomson Reuters Foundation, 14 July 2017

Some 16 million people are in need of humanitarian aid across areas of Somalia, Ethiopia, Kenya, Tanzania and Uganda Read more »

East Africa: Droughts - Some Headway in Unpacking What's Causing Them

The Conversation Africa, 11 July 2017

Drought is a common phenomenon in East Africa and has occurred throughout known history. Now, with climate change top of the mind, whenever there's a drought some are quick to… Read more »

Kenya: Food Crises Getting Worse in Somalia, Kenya

VOA, 11 July 2017

Severe food crises are growing in Kenya and Somalia, as the Horn of Africa continues to receive below-normal rainfall, according to the Famine Early Warning Systems Network. Read more »

Rwanda: Small-Scale Farmers Decry High Cost of Irrigation Technologies

New Times, 5 July 2017

Small-scale farmers have decried the cost of effective irrigation techniques needed to avoid dependence on rain-fed agriculture. Read more »

Kenya: Food Crisis to Worsen as Maize Crop Withers

Nation, 4 July 2017

The county is headed for a major food crisis if the dry spell, which has ravaged many parts of the North Rift persists. Read more »

Ethiopia: As Drought Bites, Livestock Insurance Aids Pastoralists

Thomson Reuters Foundation, 26 June 2017

Insurance is only part of the answer, but it is easing losses from drought for herders in southern Ethiopia Read more »
InFocus
By adopting agroforestry and improved agricultural practices, a community in western Kenya has increased their income and improved their living standards. They are now training ... Read more »

With water resources under ever greater stress due to the country's rising population, forests are important to maintaining stable rainfall and building drought resilience, while ... Read more »