6 Days to Polls - Kenya National Broadcaster Staff Strike
All workers at the Kenya Broadcasting Corporations have reportedly downed tools to protest the management's failure to sign and implement their Collective Bargaining Agreement. This industrial action comes at a time where the national broadcaster is expected to be reporting on the up-coming general election.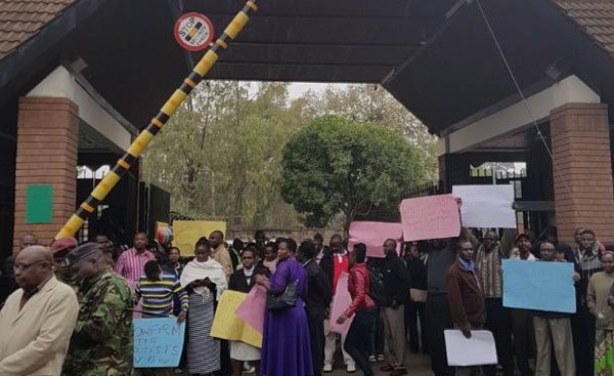 KBC staff stage demos outside the State corporations offices in Nairobi.
Kenya: Kenyatta, Odinga in Last Minute Charm Offensive to Woo Voters

Nation, 2 August 2017

President Uhuru Kenyatta and his main challenger Raila Odinga today have last-minute rallies, five days to the high-stakes August 8 general election. Read more »

Kenya: Deaths, Defections and Deceit - How Fake News Spread

African Arguments, 2 August 2017

With only a few days to Kenya's 8 August elections, the growing scale, sophistication and potency of fake news is causing alarm in newsrooms, government agencies and among the… Read more »

Kenya: Poll Shows Clear Win for Kenyatta 5 Days to Presidential Election

Capital FM, 2 August 2017

Assuming a voter turnout of 85 per cent, President Uhuru Kenyatta will trounce his main rival Raila Odinga by garnering 54 per cent of the vote on August 8. Read more »

Kenya: Distribution of Ballot Papers to Start Wednesday

Capital FM, 2 August 2017

The Independent Electoral and Boundaries Commission was on Wednesday set to start distributing ballot papers to all the 290 constituencies. Read more »

Kenya: Kenya Private Sector Expects Peaceful Polls

Nation, 2 August 2017

The Kenya Private Sector Alliance (Kepsa) has assured Kenyans that businesses will run as usual as they do not expect disruptions during elections next Tuesday. Read more »

Kenya: Kenyatta Takes Jubilee Campaigns to Coast, Odinga in Rift Valley

Nation, 2 August 2017

As the election day draws near, President Uhuru Kenyatta today takes Jubilee campaigns to Makueni, Kilifi and Mombasa counties. Read more »

Kenya: Crisis Group on the Long Road to August Elections

ICG, 1 August 2017

Dear friends of Crisis Group, Read more »

Kenya: Survey Shows Kenyatta Will Beat Odinga in Election

Capital FM, 1 August 2017

President Uhuru Kenyatta has a steady lead over his closest competitor, Raila Odinga, according to a survey released by Ipsos Tuesday evening. Read more »
InFocus
Defence Cabinet Secretary Raychelle Omamo has also refuted claims indicating that the army spokesperson Colonel Joseph Owuoth is missing, after he was quoted as having ... Read more »

Days after the death of the Independent Electoral and Boundaries Commission ICT manager, many fear a repeat of the where past elections have turned deadly. According to ... Read more »

192 out of 353 pallets of presidential ballot papers to be used in the August 8 general election, have been received by the Independent Electoral and Boundaries Commission. ... Read more »