Is There A Rift in Liberia's Ruling Party?
The resignations of key members of the ruling party have renewed speculations about whether or not President Ellen Johnson Sirleaf supports Vice President Joseph Boakai's quest to succeed her.
Liberia: UP Still in Rift?

New Republic, 7 August 2017

While the departure from the Unity Party (UP) of top partisan Gbezhongar Findley was still being grappled with by partisans and other Liberians with just about 70 days to October's… Read more »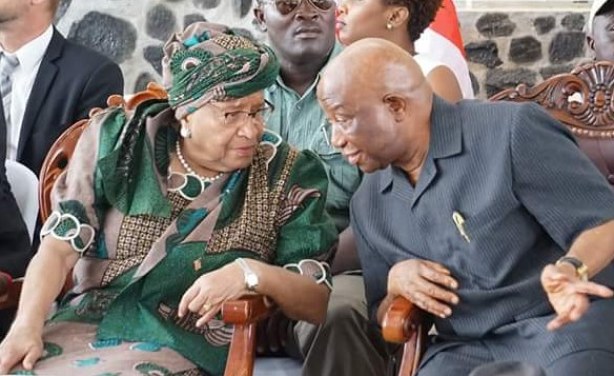 President Ellen Johnson Sirleaf and Vice President Joseph Boakai.
Liberia: UP Breaks Up?

New Dawn, 7 August 2017

Just at the time Vice President Joseph N. Boakai appears to be enjoying the endorsement of popular support for his candidacy among a cross section of the Liberian population, the… Read more »

Liberia: Findley, Unity Party Part Ways

Observer, 7 August 2017

With just eight days into the ongoing political campaign for the October 10 polls, a stalwart of the ruling Unity Party (UP), Gbehzohngar M. Findley, has resigned from the party,… Read more »
InFocus
Vice President Joseph Boakai, who is now the ruling Unity Party's Standard Bearer, has said that the party is not at war and called on partisans to treat President Ellen Johnson ... Read more »

Vice President Joseph Boakai has told a local daily that he is uncertain about who President Ellen Johnson Sirleaf supports in the upcoming presidential polls. Read more »