'Kasukuwere, Moyo Ever Around Grace Mugabe Like Cocks' - AUDIO
"The First Lady, well it is the problem of wisdom and maturity and many other things which we all see because the television tells the story. I don't want to talk about the First Lady when she is parading herself exactly the way she is doing on television, every Zimbabwean sensible enough can judge," War Veterans' Chairperson Chris Mutsvangwa said at a press conference.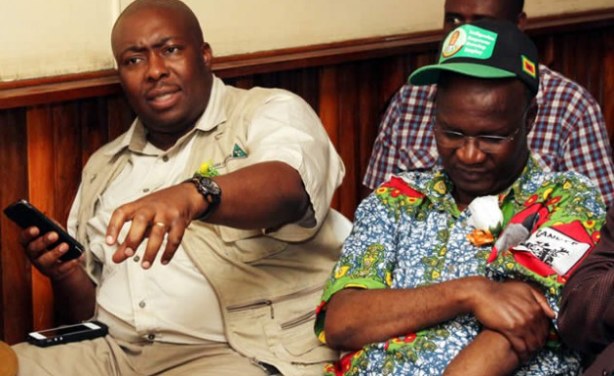 From left, Saviour Kasukuwere and Jonathan Moyo (file photo).
Audio
Your browser does not support the audio element, but you may download this mp3

Click above to play, or download this mp3

Author:

JustImagine Pictures

Publisher:

Publication Date:

10 August 2017

"They prance around her like cockerels all over the woman of another man, but your woman is not part of the joyous celebrations which you are ... see more »
Zimbabwe: Bona the Only Level-Headed Mugabe Child - Mutsvangwa

New Zimbabwe, 9 August 2017

President Robert Mugabe is blessed to have a child like Bona and her behaviour should be exemplary to her two wayward brothers, Robert Junior and Chatunga, says Zimbabwe National… Read more »

Zimbabwe: Mugabe Thinks a Military Coup Is Afoot - He's Probably Wrong

New Zimbabwe, 9 August 2017

In late July, 93-year-old President Robert Mugabe of Zimbabwe - the oldest serving head of state in the world - alleged that military involvement in his party's struggle over who… Read more »

Zimbabwe: Mugabe's Sons Party Up a Storm All Over

Zimbabwe Independent, 8 August 2017

They are now notorious for partying into the wee hours of the morning with reckless abandon, but even by their chronically boozing standards, President Robert Mugabe sons Robert… Read more »

Zimbabwe: VP Mphoko Humiliates War Veterans Tshinga Dube

Zimbabwe Standard, 6 August 2017

Vice-President Phelekezela Mphoko yesterday reprimanded War Veterans minister, Tshinga Dube for his alleged links to a faction backing his counterpart, Emmerson Mnangagwa to take… Read more »

Zimbabwe: War Veterans' Group Comes to Grace Mugabe's Defence

New Zimbabwe, 1 August 2017

The Manicaland Provincial Affairs minister Mandi Chimene led war veterans faction leader, George Mlala has said the executive led by Christopher Mutsvangwa should stop masquerading… Read more »

Zimbabwe: Hands Off Army, Top War Veteran to Mugabe

New Zimbabwe, 30 July 2017

Zimbabwe People First (ZimPF) interim leader and retired Brigadier-General Agrippa Mutambara has urged President Robert Mugabe to stop using the military as pawns to his… Read more »
InFocus
War veterans have challenged President Robert Mugabe to dismiss the Zanu-PF national political commissar Saviour Kasukuwere from the ruling party and government. Nine out of 10 ... Read more »

Zimbabwean President Robert Mugabe's succession wars may have reached a climax, with his nephew Patrick Zhuwao revealing that "swords are now out" for the nonagenarian's deputy, ... Read more »

War veterans have challenged President Robert Mugabe to dismiss higher education minister Jonathan Moyo from Zanu-PF and government for his unrestrained attacks on government ... Read more »