Nigerian Leader Calls for Peace, Global Support Against Terrorism
President Muhammadu Buhari has implored world leaders to sustain collaborative efforts in the war against terrorism at the international level. Buhari also sought the assistance of the global community on his administration's efforts towards fighting corruption and recovering stolen assets.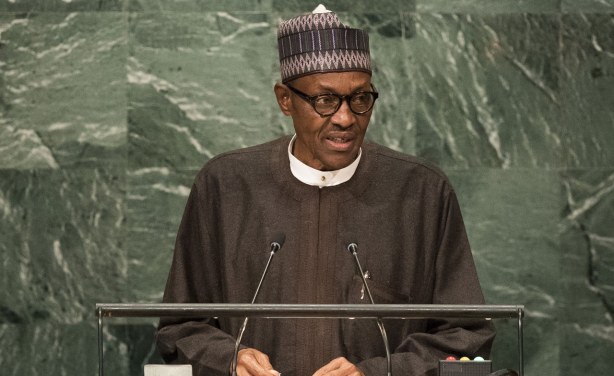 Buhari Addresses UN.
Nigeria: Buhari Calls for Peace, Terrorism Support At UN

Vanguard, 19 September 2017

President Muhammadu Buhari on Tuesday at the 72nd Session of the UN General Assembly in New York, urged the world to strive for peace and decent living for all people. Read more »

Nigeria: Buhari Canvasses International Material Support for Anti-Corruption War

This Day, 20 September 2017

President Muhammadu Buhari Tuesday called for international co-operation and material support for his administration's prosecution of the war against corruption and asset recovery. Read more »

Nigeria: Boko Haram - Buhari Thanks Jordan for Donating Military Hardware

Premium Times, 20 September 2017

President Muhammadu Buhari on Tuesday in New York thanked the Kingdom of Jordan for its support to Nigeria's campaign against terrorism and insurgency. The president said Jordan… Read more »

Nigeria: Isis Must Be Stopped, Says Buhari At UN

Vanguard, 20 September 2017

President Muhammadu Buhari has said that inequalities within societies and the gap between the rich and the poor nations were the root causes of instability. Read more »

Nigeria: Buhari Seeks Collaborative Efforts in Combating Terrorism

Leadership, 20 September 2017

President Muhammadu Buhari yesterday in New York implored world leaders to sustain collaborative efforts in the war against terrorism at the international level. Read more »

Nigeria: President Buhari's Speech At the 72th United Nations General Assembly

Daily Trust, 19 September 2017

STATEMENT DELIVERED BY Read more »

Nigeria: Terrorism - Buhari Lauds Jordan for Military Hardware Donation

Vanguard, 20 September 2017

President Muhammadu Buhari on Tuesday in New York lauded the Hashemite Kingdom of Jordan for the donation of hardware in support of Nigeria's campaign against terrorism and… Read more »

Nigeria: UN - Don't Be Silent On 'Ethnic Cleansing' in Myanmar, Buhari Tells World Leaders

Vanguard, 19 September 2017

Nigeria's President Muhammadu Buhari urged fellow leaders at the United Nations General Assembly to condemn Myanmar's "ethnic cleansing" of the Rohingya people. Read more »

Nigeria: Our Faith in Democracy Remains Unshaken - Buhari At UN

Vanguard, 19 September 2017

President Muhammadu Buhari has assured the international community of Nigeria's firm and unshaken commitment to democracy in the country and the African continent. Read more »

Nigeria: In UN Speech, Buhari Urges Resolution of Myammar, North Korea Crises

Premium Times, 19 September 2017

President Muhammadu Buhari has urged the United Nations to ensure a peaceful resolution of the North Korea nuclear crisis. Read more »