Mugabe in South Africa, Leaves Assault Suspect Wife Behind
Speculation has been swirling on when, if ever, Grace Mugabe will visit South Africa again as she remains at the centre of a legal storm over the alleged assault of a 20-year-old South African model. The first lady is not accompanying her husband to South Africa, even though she is covered by diplomatic immunity.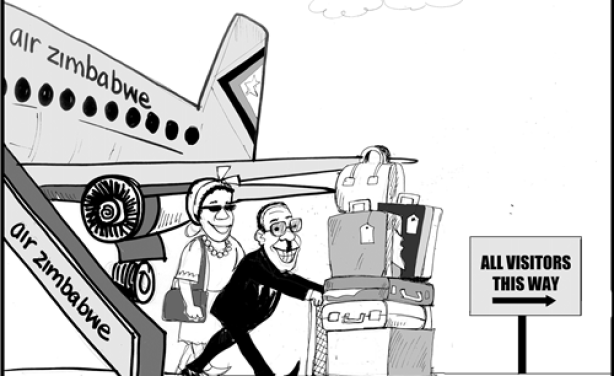 President Robert Mugabe and First Lady Grace Mugabe cartoon.
InFocus
AfriForum has asked the court for permission to cite Grace Mugabe as a respondent in an assault case involving South African model, Gabriella Engels. If granted, Zimbabwe's ... Read more »

Grace Mugabe's claims that model Gabriella Engels was drunk and attacked her with a knife during an altercation at a Sandton hotel comes as the Zimbabwean First Lady's sons have ... Read more »

National Prosecuting Authority head Shaun Abrahams has said that Zimbabwean First Lady Grace Mugabe should have been charged for the alleged assault on model Gabriella Engels. This ... Read more »