Deaths, Cleanup Follow Durban Storm in South Africa
The cost to repair the damage caused by the storm that claimed several lives in KwaZulu-Natal could run into hundreds of millions of rands, KwaZulu-Natal MEC for human settlements Ravi Pillay has said.
South Africa: SA Weather Service Battered By Faulty Equipment, Decries CEO

News24Wire, 13 October 2017

The South African Weather Service (SAWS) has blamed the poor state of their equipment for failing to warn citizens earlier of the stormy weather that devastated parts of Gauteng… Read more »

South Africa: Transnet Declares 95 Percent of Durban Port Safe

SAnews.gov.za, 13 October 2017

At least 95% of the Durban Port area has now been declared safe for the navigation of vessels. Read more »

South Africa: Storm Leaves Durban Shack Dwellers Destitute

GroundUp, 12 October 2017

In the aftermath of Tuesday's storm, shack dwellers in Durban have been picking up the pieces, hanging up their blankets and clothes, and trying to dry out beds and mattresses. Read more »

South Africa: KwaZulu-Natal On Impact of Mega-Storm

Govt of SA, 11 October 2017

In the immediate aftermath of the ferocious storms and floods, the Provincial Government of KZN together with the eThekwini Metro and other affected municipalities is currently… Read more »

South Africa: Eight Confirmed Dead Following KwaZulu-Natal Storm

SAnews.gov.za, 11 October 2017

The KwaZulu-Natal Provincial Government says eight reported deaths have now been confirmed following the thunderstorms that hit the province on Tuesday. Read more »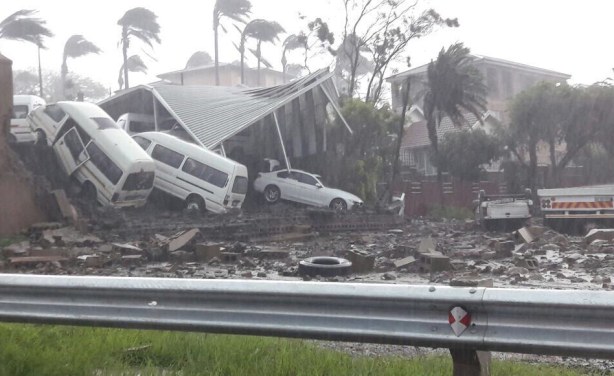 The collapsed roof of King Edward Hospital in Durban.
Video
Publisher:

SABC

Publication Date:

12 October 2017

A powerful rain-heavy storm has struck the port city of Durban.. Heavy downpours battered large tracts of KwaZulu Natal. A policeman was killed when a ... see more »
InFocus
The eThekwini Municipality has issued an urgent warning residents urging them to stay indoors due to severe storm conditions in Durban where floods have submerged cars on the N2 ... Read more »

Severe storms have destroyed homes and damaged infrastructure across Gauteng, leaving some parts of the province without power and causing a road accidents that resulted in several ... Read more »