Self-Confessed Nigerian Kidnapper Changes Plea to Not Guilty
Chukwudumeme Onwuamadike, or Evans as he is known, is facing a two-count charge of kidnapping and conspiracy to commit a felony. He initially pleaded guilty to the charges when he appeared in court in August this year.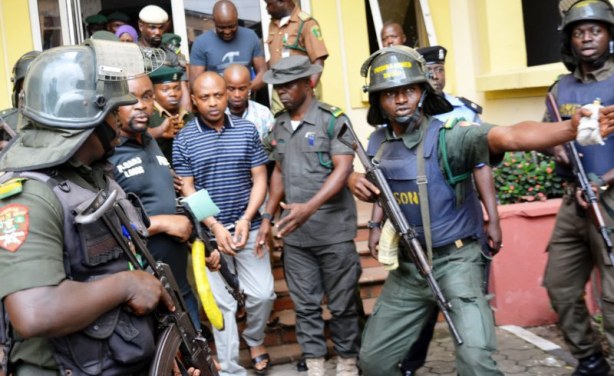 Billionaire kidnapper, Chukwudumeme Onwuamadike, popularly known as Evans.
Nigeria: Evans Re-Arraigned, Reverses Self, Pleads Not Guilty

Guardian, 20 October 2017

Evans was re-arraigned together with five other suspected members of his gang, which included a woman, Ogechi Uchechukwu. Others are Uche Amadi, Okwuchukwu Nwachukwu, Chilaka… Read more »

Nigeria: Judge Fixes Date for Trial After Alleged Kidnapper, Evans, Changed Plea

Premium Times, 19 October 2017

Justice Hakeem Oshodi of the Ikeja Division of the Lagos State High Court on Thursday fixed November 3 for the trial of Chukwudumeme Onwuamadike (popularly known as Evans) and five… Read more »

Nigeria: Evans Makes U-Turn Pleads Not Guilty to Offence of Kidnap

Vanguard, 19 October 2017

There was twist of event Thursday before an Ikeja High Court when the suspected kidnap kingpin, Chukwudumeme Onwuamadike, a.k.a Evans and his accomplices made a u-turn and pleaded… Read more »

Nigeria: Evans Makes U-Turn, Pleads Not Guilty to Kidnapping Charges

Leadership, 19 October 2017

Alleged billionaire kidnapper, Chukwudumeme Onwuamadike Evans and two of his co-accused, Uche Amadi and Okechukwu Nwachukwu on Thursday changed their guilty plea to two count… Read more »

Nigeria: Billionaire Kidnapper Evans Changes Plea to 'Not Guilty'

Premium Times, 19 October 2017

The billionaire kidnapper, Chukwudumeme Onwuamadike (popularly known as Evans), has changed his guilty plea to two counts of conspiracy and kidnapping to "not guilty." Read more »
InFocus
Chukwudumeme Onwuamadike, popularly known as Evans, has pleaded guilty to conspiracy and kidnapping before a judge of the Ikeja High Court. Evans will be remanded in Kirikiri ... Read more »