Uganda's Besigye Arrested, Accused of Attempted Murder
Former Forum for Democratic Change presidential candidate Kizza Besigye has been arrested. Regional police commander Denis Namuwoza says Dr Besigye was in charge of people who pelted stones at police officers at a rally Rukungiri. One person is reported to have died at the rally.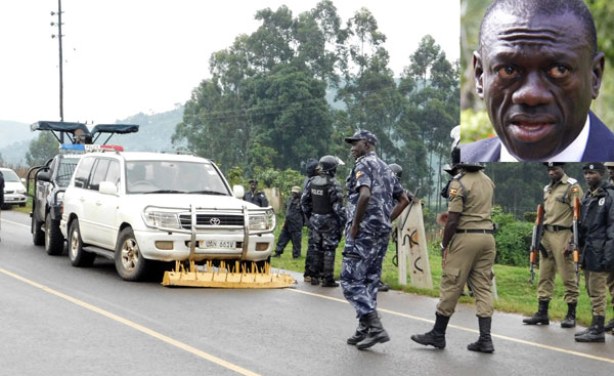 Police officers block Kizza Besigye's car shortly after he was intercepted on his way to Kabale on October 19, 2017. Inset is Dr Besigye.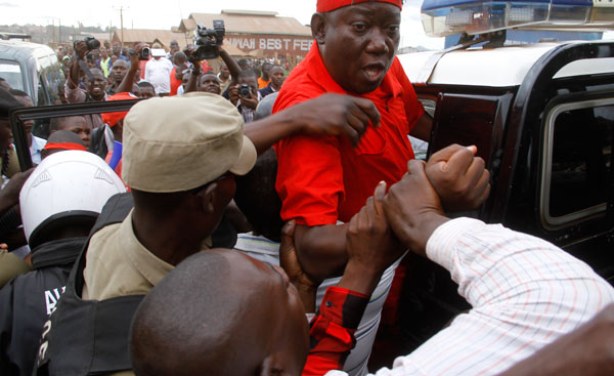 Police force Rubaga South MP Kato Lubwama into a waiting patrol truck after his arrest on Thursday, October 19, 2017.
Uganda: MPs Kato Lubwama, Muwanga Kivumbi Arrested Over Age Limit

Monitor, 20 October 2017

Police have fired teargas and live bullets to disperse a group of protestors opposed to the amendment of the constitution to remove the age limit cap at Nateete and arrested the… Read more »

Uganda: After MPs Torture Stories, Police Explains Their Methods

Observer, 20 October 2017

Weeks after the September 27 forceful ejection of anti-age removal MPs from parliament, a senior police officer has explained why opposition MPs were manhandled. Read more »

Uganda: Police Guidelines Put Heavy Burden On Officers' Shoulders

Observer, 20 October 2017

As politicians embark on consultation of Ugandans on the heated issue of the proposal to amend the constitution and scrap presidential age limits, the police leadership has issued… Read more »

Uganda: MP Kakooza - We'll Remove Age Limits Despite Opposition Noise

Observer, 20 October 2017

As debate for or against scrapping the 75-year age cap for presidential candidates rages on, and despite recently being accosted by some people, Kabula MP JAMES KAKOOZA insists… Read more »

Uganda: Age Limit Debate - Politicians Must Learn to Listen, Respect Others' Views

Monitor, 20 October 2017

The age limit debate is spreading like wildfire. News about it, and not the good kind, continues to dominate headlines and will certainly rumble on for some time. The Ludicrousness… Read more »
InFocus
It has been reported that one person was shot dead and scores injured at a rally against a proposed change to the presidential age limit. The rally happened a day after police ... Read more »

President Yoweri Museveni - who is 73 - has reportedly said he has a "mission to accomplish" and this is why he wants parliament to scrap constitutional age limits for presidential ... Read more »