Ugandan MP Storms Out of Hearing on Age Limit Bill
Ruling party MP Raphael Magyezi abandoned the first hearing of the parliamentary committee scrutinising his controversial presidential age limit removal bill. For close to six hours, opposition legislators poked holes in Magyezi's efforts to justify his bill. Magyezi's microphone was switched off and he was repeatedly cut off by shouts of "Point of order, point of procedure!".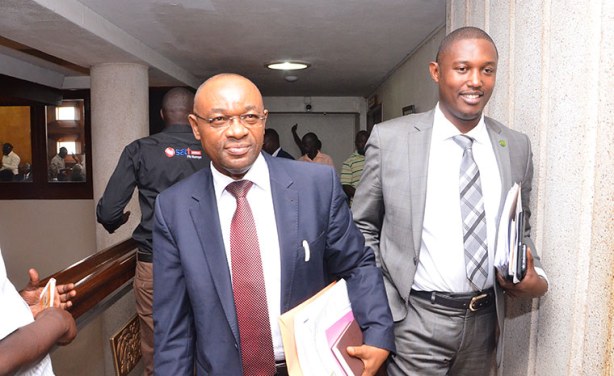 Raphael Magyezi, left, with one of his seconders Moses Balyeku storms out of the first hearing on the age limit bill.
Uganda: MPs in Bitter Exchange As Hearing On Age Limit Begins

Monitor, 31 October 2017

Drama ensued during the proceedings of the Parliamentary committee on Legal and Parliamentary Affairs as Kiira Municipality MP, Mr Ibrahim Ssemujju was involved in a bitter… Read more »

Uganda: Magyezi Bill Swims in Hostile Waters

Observer, 1 November 2017

Lwemiyaga MP Theodore Ssekikubo was decorated with a red headband and a scarf as he concluded his weeklong consultations on the proposed amendment to scrap the constitutional age… Read more »

Uganda: Age Limit Probe Team Afraid of Upcountry Hearings

Observer, 1 November 2017

The Legal and Parliamentary Affairs committee may be forced to take extra security when they travel upcountry for hearings on the Constitution Amendment No 2 Bill 2017. Read more »

Uganda: President Museveni - Five-Year Term is Too Short

Observer, 31 October 2017

During the ruling NRM's National Executive Council meeting at State House Entebbe on Friday, President Museveni suggested that a five-year presidential term is too short for… Read more »

Uganda: Numerous Prospects Awaiting Museveni in Retirement

Observer, 1 November 2017

When President Museveni completes his term in 2021, he will have served our nation for 35 years as a head of state and almost 55 years as a freedom fighter. Read more »

Uganda: 9,000 Support Lifting of Age Limit

Monitor, 1 November 2017

The Kabale District NRM secretariat has handed over a petition to the party's district chairperson, Mr David Bahati, signed by 9,087 people supporting the lifting of the… Read more »

Uganda: Age Limit - Minister Kyambadde Flees Consultative Meeting

Monitor, 31 October 2017

Trade Minister Amelia Kyambadde's public consultative meeting to get views of her voters in Mawokota North on the controversial lifting of the age limit from the Constitution… Read more »

Uganda: Consult and Debate Age Limit, but Give Credit Where It Is Due

Monitor, 1 November 2017

For quite some time now, Ugandans have been taken up and continue spending time on the age limit debate to the extent of causing mayhem in the August House. It will cost the… Read more »

Uganda: Who Is Frank Mwesigwa, the Cop Policing Age-Limit Rallies?

Observer, 1 November 2017

In this interview, Commissioner of Police FRANK MWESIGWA reflects on his one and half years on the job of Kampala Metropolitan Police commander. He talks about his effort to… Read more »
InFocus
The money was said to help lawmakers consult with their constituents over the removal of the age limit in the constitution. Read more »

After weeks of canvassing local constituents' opinions in the face of growing opposition to a proposed amendment to the constitution to remove presidential age limits, ruling party ... Read more »