Zimbabwe's Sacked Vice-President Heads for South Africa
Emmerson Mnangagwa, who was fired from his government position as Vice President of the country, has left for South Africa via Mozambique, says one of his allies. New Zimbabwe reports that he may be seeking asylum in South Africa.
Zimbabwe: President Slams Mnangagwa

The Herald, 9 November 2017

President Mugabe has blasted his former deputy Cde Emmerson Mnangagwa for sponsoring the disturbances that happened during the ninth Presidential Youth Interface rally in Bulawayo… Read more »

Zimbabwe: Mugabe's Fired Deputy Mnangagwa Vows to Fight

Deutsche Welle, 8 November 2017

Zimbabwe's sacked vice president has vowed to return, accusing President Robert Mugabe of treating the nation as his "personal property." Mugabe in turn claims Emmerson Mnangagwa… Read more »

Zimbabwe: Social Media Reacts to Mnangagwa's Move to Flee From Mugabe

News24Wire, 9 November 2017

Social Media users have reacted with mixed emotions after ex-vice president Emmerson Mnangagwa fled the country "to avoid life threatening situation". Read more »

Zimbabwe: Drama As 'Fleeing' Mnangagwa Stopped At Border - Report

New Zimbabwe, 8 November 2017

FIRED Vice President Emmerson Mnangagwa is reported to have been stopped from crossing into Mozambique through the Forbes Border foiled by security details on Tuesday morning,… Read more »

Zimbabwe: Mugabe's Sacked Deputy Heads to South Africa - Report

New Zimbabwe, 8 November 2017

CHRIS Mutsvangwa, the war veterans national chair and top ally to axed Emmerson Mnangagwa has revealed that the axed Vice President is on his way to South Africa with signs he… Read more »

Zimbabwe: Succession Race Is Far From Over

ISS, 8 November 2017

On Monday, President Robert Mugabe fired his vice-president Emmerson Mnangagwa, sending shockwaves through Zimbabwe's political establishment. 'I think that this is one of the most… Read more »
InFocus
Zimbabwe's former home affairs minister, now the leader of the opposition Zapu party, Dumiso Dabengwa, has reportedly said that a military coup "cannot be ruled out" in the country ... Read more »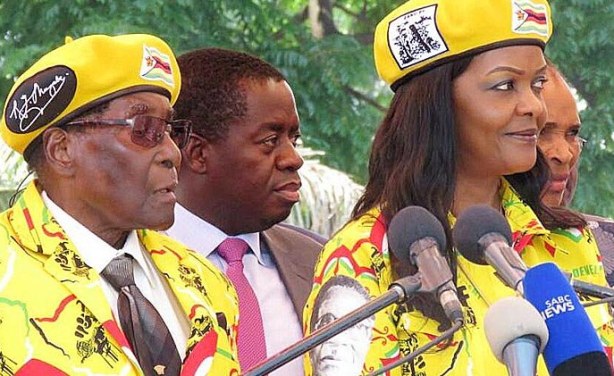 President Robert and Mrs Grace Mugabe at a rally at the ruling party headquarters after the sacking of the Vice President.