Nigeria's Lagos State Authorities Urged to Stop Mass Evictions
The Lagos State government has rejected Amnesty International's report on forced evictions in the state, saying it is biased and contains inaccuracies and exaggerations. In a report entitled, The Human Cost of a Megacity: Forced Evictions of the Urban Poor In Lagos, Nigeria, Amnesty said over 30,000 people had been forcibly evicted from settlements in the state in defiance of court orders.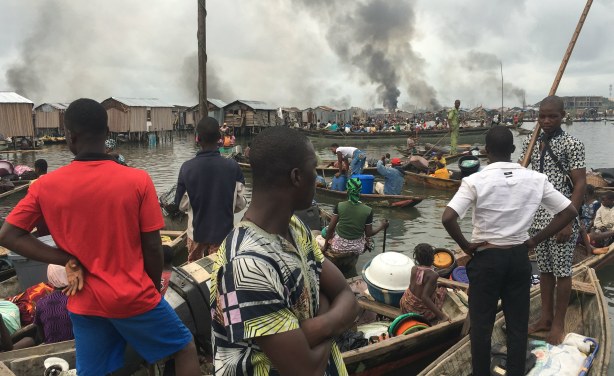 Members of the Otodo Gbame community.
Nigeria: Otodo-Gbame Eviction - Amnesty Int'l Flays Lagos Govt Over Dead 11, Missing 17

Vanguard, 15 November 2017

London-based non-governmental organisation, Amnesty International, AI, has said the eviction exercise by the Lagos State Government in waterfront communities claimed no fewer than… Read more »

Nigeria: 11 Killed, 17 Missing in Mass Evictions By Lagos Govt - Amnesty

Premium Times, 14 November 2017

Nigerian authorities must halt a violent, unlawful campaign of demolitions and forced evictions of waterfront communities in Lagos State which has so far left more than 30,000… Read more »

Nigeria: Amnesty Int'l - LASG Forcibly Evicted 30,000 From Homes in Defiance of Court Order

This Day, 15 November 2017

Eleven persons were killed while 17 went missing when unidentified armed men attacked the Otodo-Gbame community in Lekki, Lagos State, even as the state government forcibly evicted… Read more »

Nigeria: Deadly Mass Forced Evictions Make Life Misery for Waterfront Communities

AI London, 14 November 2017

Nigerian authorities must halt a violent, unlawful campaign of demolitions and forced evictions of waterfront communities in Lagos State which has so far left more than 30,000… Read more »

Nigeria: Lagos Appeals Verdict Ordering Otodo Gbame Community Resettlement

Vanguard, 26 June 2017

The Lagos State Government has asked the Court of Appeal to set aside the judgment of a Lagos High Court in Igbosere which faulted the demolition of illegal structures in Otodo… Read more »