2017 Tour du Rwanda Hailed the Most Successful
The police have commended road users and the public in general for their conduct during this year's ninth editition of the cycling competition which ended "incident-free". Rwandan rider Joseph Areruya claimed the race.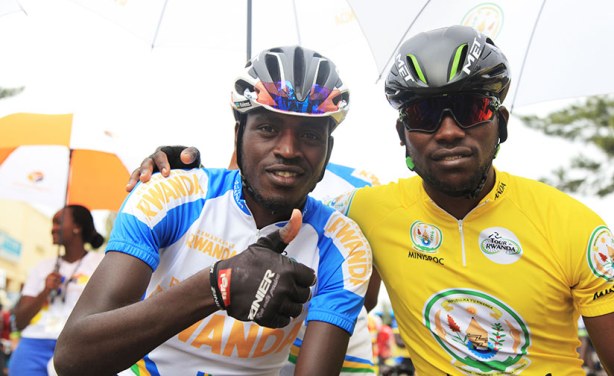 Tour du Rwanda 2017 winner Joseph Areruya (L) and compatriot Valens Ndayisenga gave glowing tribute to the race that has been won by Rwandans since 2014.
Rwanda: Tour Du Rwanda - Areruya Credits Teammates for Win

New Times, 20 November 2017

Rwandans have proved to be the masters of their own race after Joseph Areruya claimed this year's Tour du Rwanda to become the third Rwandan to win the annual UCI Africa Tour race… Read more »

Rwanda: Joseph Areruya is Tour Du Rwanda 2017 Champion

New Times, 19 November 2017

Rwandan Joseph Areruya has won Tour du Rwanda 2017, which concluded on Sunday at Amahoro National Stadium-the 21-year old, riding for South African UCI Continental Team Dimension… Read more »

Rwanda: Areruya Closing in on Tour Du Rwanda Triumph

New Times, 19 November 2017

Dimension Data for Qhubeka's Rwandan rider Joseph Areruya is on the verge of claiming his first Tour du Rwanda title as the 2017 edition comes to a climax with the seventh and… Read more »

Rwanda: Areruya Regains Lead as Tour Du Rwanda Heads to Rwamagana

New Times, 17 November 2017

Dimension Data for Qhubeka rider Joseph Areruya regained the yellow jersey in the ongoing Tour du Rwanda as his teammate Eyob Mektel claimed the 121km Stage Four from… Read more »

Rwanda: Tour Du Rwanda - Eyob Wins Stage 4 as Areruya Regains Lead

New Times, 16 November 2017

Eritrean rider Eyob Mektel, who rides for South Africa's Dimension Data for Qhubeka, has won stage four in the ongoing Tour du Rwanda 2017 from Musanze-Nyamata, a distance of… Read more »

Rwanda: Tour Du Rwanda - Areruya Wins Stage Three

New Times, 15 November 2017

Rwandan, Joseph Areruya, riding for South Africa-based UCI Continental Team Dimension Data for Qhubeka, won stage three of the 2017 Tour du Rwanda, from Rubavu to Musanze. Areruya… Read more »

Rwanda: Swiss Claims Stage 2 as Tour Du Rwanda Hots Up

New Times, 15 November 2017

Debutant Simon Pellaud, riding for American UCI Continental Team Illuminate, dominated the second stage of this year's Tour du Rwanda from Nyanza-Rubavu after clocking 4 hours, 32… Read more »

Rwanda: Tour Du Rwanda 2017 - Areruya Wins Stage One

New Times, 13 November 2017

Rwandan Joseph Areruya, riding for South Africa-based UCI Continental Team Dimension Data for Qhubeka, won stage one of the 2017 Tour du Rwanda, from Kigali to Huye District after… Read more »

Rwanda: Tour Du Rwanda Starts Today as Morocco Pull Out at Last Minute

New Times, 12 November 2017

Morocco national cycling team has withdrawn from this year's 9th edition of Tour du Rwanda which starts today with the traditional Prologue and will run until November 19. Read more »