Ugandan Newspaper Editors Appear in Court, Denied Bail
The editors of local daily tabloid Red Pepper have been charged with seven counts, including the publication of information prejudicial to security and libel. The group is also said to have published newspaper story lines that injured the reputations of President Yoweri Museveni, his brother General Salim Saleh and security minister Lieutenant General Henery Tumukunde. They denied the charges.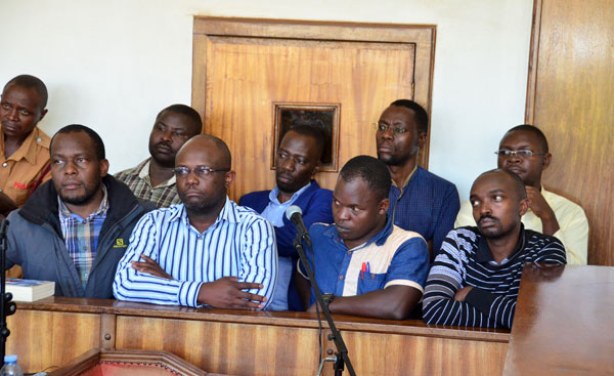 Red Pepper directors and editors in the dock at Buganda Road Court on Monday.
Uganda: Red Pepper Editors Arraigned in Court

Observer, 27 November 2017

Five directors and three editors of Red Pepper Publications have today, Monday been arraigned in Buganda Road court, almost a week after they were arrested over a tabloid story… Read more »

Uganda: Red Pepper Editors in Court

Independent (Kampala), 27 November 2017

A week after their arrest, eight editors and directors of one of Uganda's most popular tabloid newspaper groups are in court to face "treason" charges over an article implicating… Read more »
InFocus
Eight Red Pepper journalists who were arrested on Tuesday are to be charged with treason, an offence punishable by death. It has been reported that the arrests were made in ... Read more »