Former Zimbabwe VP Fears Return to Zimbabwe
Former vice president Phelekezela Mphoko has been holed up in Botswana since the army launched an operation to remove criminal elements around former president Robert Mugabe. The Botswana government had given Mphoko, a member of the faction which backed then first lady Grace Mugabe, up to December 1 to leave their country and return to Zimbabwe, but the former vice president fears arrest for corruption-related crimes.
Zimbabwe: Former VP Mphoko Told to Leave Botswana

New Zimbabwe, 29 November 2017

Former Vice President Phelekezela Mphoko could soon return to Zimbabwe after he was reportedly given assurances that he was free to do so and after he was given up to December 1 to… Read more »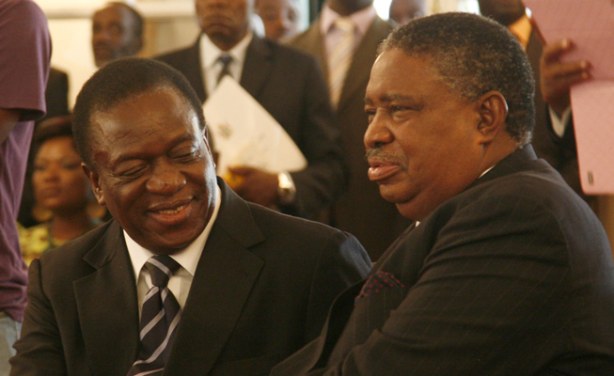 President Emmerson Mnangagwa and former vice president Phelekezela Mphoko (file photo).
Zimbabwe: President Says Grace Mugabe Ally Mphoko Free to Return Home

News24Wire, 30 November 2017

Zimbabwe's ex-vice president Phekezela Mphoko has reportedly been given up to December 1 to leave Botswana by President Ian Khama's government. Read more »

Zimbabwe: Coltart Mocks Awol President Mphoko

New Zimbabwe, 24 November 2017

OPPOSITION Senator David Coltart Zimbabwe's "president" at large Phelekezela Mphoko, describing him as the only president in the world who never visited the country he led until… Read more »

Zimbabwe: Mnangagwa Demands an End to Retributions

Zimbabwe Independent, 24 November 2017

New President of Zimbabwe Emmerson Mnangagwa has called on Zimbabweans to stop retribution and embrace peace as he starts his first day of office after former president Robert… Read more »

Zimbabwe: I'm Not G40 - VP Mphoko

The Herald, 3 November 2017

Vice President Phelekezela Mphoko has said he does not belong to the so-called G40 faction in Zanu-PF. The VP said this in the National Assembly on Wednesday. Cde Mphoko said he… Read more »