How Do We Increase Access to Cancer Treatment?
Patients seeking treatment in both private and public hospitals in sub-Saharan Africa face significant barriers that result in advanced disease, misdiagnosis, interrupted treatment, stigma and fear, write Louise Makau Barasa and Nicholas A. Abinya for The Conversation Africa.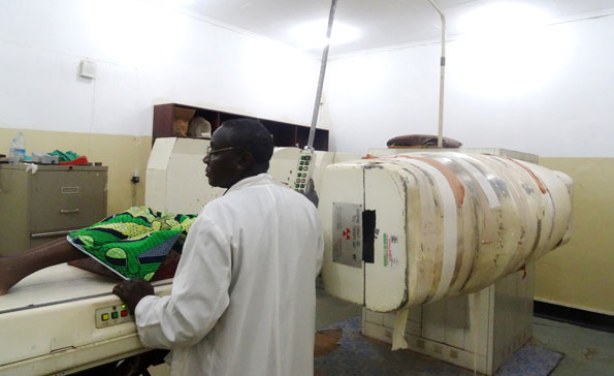 A physicist administers radiotherapy treatment to a cancer patient at Mulago hospital using the old Cobalt 60 machine bought 21 years ago.
Africa: One in 10 Medicines in Developing Countries Substandard or Falsified - UN Health Agency

UN News, 29 November 2017

Substandard or fake medicines that fail to prevent and cure disease - and could even cause death - are becoming more and more prevalent, the World Health Organization (WHO) has… Read more »

Tanzania: Guidelines to Boost Cancer Treatment

Daily News, 19 November 2017

THE much awaited National Cancer Treatment Guidelines, which are envisioned to assist the government have proper forecast of cancer medicines and other services, are in their final… Read more »

Rwanda: U.S. Firm to Ease Cancer Treatment, Cost in Rwanda

New Times, 10 November 2017

The Ministry of Health has sealed a partnership agreement with US organisation, BioVentures for Global Health (BVGH), a development that will see Rwandans access affordable cancer… Read more »

Botswana: 'test Cancer Earlier for Better Treatment'

Botswana Daily News, 8 November 2017

An oncologist at Sekgoma Memorial Hospital, Dr Ahmed Shariff has advised the public to test early for cancer, as early detection could be advantageous in treating the disease. Read more »
InFocus
Cancer is a disease resulting from uncontrolled cellular growth and is mainly caused by an interaction of genetic, environmental and dietary risk factors. There is vast conflicting ... Read more »

Heart and lung ailments, cancers, diabetes and other noncommunicable diseases (NCDs) are spreading rapidly in Africa and across the world. The World Health Organization hosted a ... Read more »