Kenya Appoints New Reps for the Region's Legislative Assembly
The most experienced among the elected is Oburu Oginga, the former Bondo MP, and the youngest is Flowrence Jematiah Sergon. Each of the five East African Community partner states has nine slots in the East African Legislative Assembly, which is the legislative arm of the community.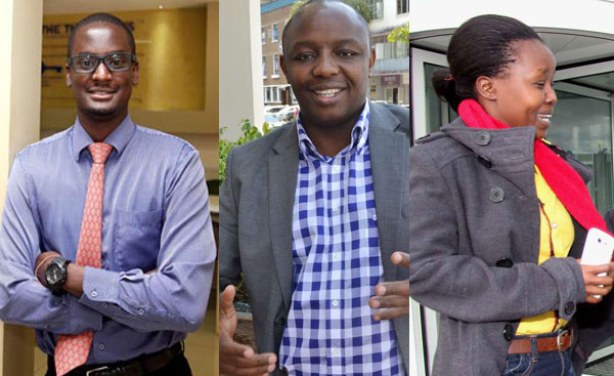 From left: Kennedy Musyoka, Simon Mbugua and Flowrence Jematiah Sergon. They are among nine MPs who will represent Kenya at EALA.
Kenya: Jubilee Throws Weight Behind Kalonzo's Son in EALA Elections

Capital FM, 14 December 2017

Jubilee party Members of Parliament have now thrown their weight behind Wiper leader Kalonzo Musyoka's son Kennedy ahead of the Thursday afternoon vote on the East Africa… Read more »

Kenya: Home Stretch - Campaigns for EALA Posts Close Today

Nation, 13 December 2017

The campaigns for the East African Legislative Assembly election officially ends on Wednesday as Kenyans nominated to the regional assembly seek the support of MPs ahead of… Read more »

Kenya: Jubilee MPs Troop to State House Ahead of EALA Vote

Capital FM, 13 December 2017

Business in the National Assembly was on Wednesday morning temporarily held up due to lack of quorum as it emerged that Jubilee Party MPs were away attending a parliamentary group… Read more »

Kenya: MPs Ready to Take Vote on Kenya's Representatives to Regional Legislature

Capital FM, 13 December 2017

Members of Parliament are on Thursday set to elect nine members who will represent Kenya in the East African Legislative Assembly (EALA). Read more »

Kenya: List of EALA Nominees to Be Tabled in the Houses Thursday

Capital FM, 7 December 2017

The Joint Select Committee on the election of members to the East African Legislative Assembly is expected to table its report in both Houses of Parliament Thursday afternoon for… Read more »

Kenya: 2 EALA Nominees Disqualified for Not Resigning as Lobbying Intensifies

Capital FM, 7 December 2017

The Senate has unanimously adopted the Joint Parliamentary Select Committee report on membership to the East African Legislative Assembly (EALA) paving way for elections next week… Read more »

Kenya: Ford-Kenya Challenges Nasa List of EALA Nominees

Nation, 7 December 2017

The National Super Alliance could be headed for tough times ahead after a Ford-Kenya party official challenged the list of 12 nominees to the East African Legislative Assembly… Read more »

Kenya: HIV Positive Nominee to Champion Cause in Regional Assembly

Capital FM, 5 December 2017

A university lecturer and a Jubilee nominee to the East African Legislative Assembly (EALA) who has been living with HIV/AIDS for 33 years has said once selected to the… Read more »

Tanzania: EALA Set to Swear-in Kenya Representatives

Daily News, 5 December 2017

THE East African Legislative Assembly, the regional lawmaking body based in Arusha, intends to swear in the remaining nine representatives from Kenya before the end of this month. Read more »

Kenya: Jubilee Nominates 15 for Five EALA Slots

Capital FM, 30 November 2017

President Uhuru Kenyatta Jubilee Party has nominated 15 people to the East African Legislative Assembly (EALA). Read more »