Will Ugandan MPs Follow Voters or Party on Age Limit Bill?
The constitution amendment bill seeking to change the presidential age limit comes up for its second reading in Parliament today. The backing of at least 290 MPs is needed to pass the bill and the ruling NRM party has 294 MPs and about 56 independent MPs aligned to it. President Yoweri Museveni is reported to have told the NRM parliamentary caucus that he wants all of them to vote for the amendment - but it is not clear whether they will all obey him, writes the Daily Monitor.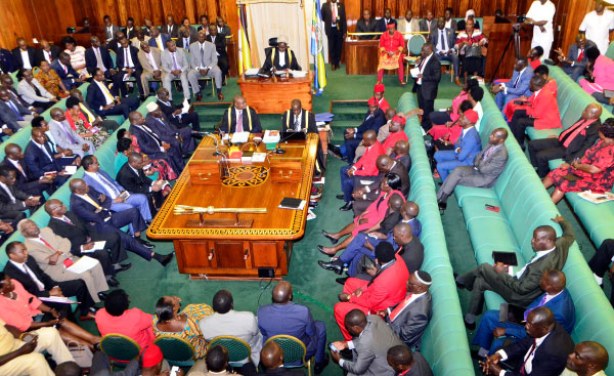 Parliament in session in December 2017.
Uganda: 'Police Ready for Age Limit Debate'

Independent (Kampala), 18 December 2017

Uganda's Police chief Gen. Kale Kayihura has vowed that his officers will ensure proceedings in parliament are not interrupted when the constitution amendment bill 2017 comes up… Read more »

Uganda: Opposition Planning to Burn Electricity Poles in Kampala - Kayihura

Monitor, 18 December 2017

The Inspector General of Police, Gen Kale Kayihura, says they have received intelligence reports by those against lifting of the age limit that there is a sinister plot to cause a… Read more »

Uganda: Age Limit Bill - Details of Legal Committee Report

Monitor, 17 December 2017

Parliament's Committee on Legal Affairs failed to reach consensus on the contentious proposal to amend Article 102(b) and remove age limits, prompting MPs to author two conflicting… Read more »

Uganda: Age Limit - Bishop Odama Urges Legislators On Honesty and Transparency

Monitor, 17 December 2017

The Archbishop of Gulu Arch Diocese John Baptist Odama has cautioned Ugandan legislators in the tenth parliament to exhibit honesty and transparency while debating and voting on… Read more »

Uganda: Church Leaders Criticise Age Limit Bill

Monitor, 16 December 2017

The proposed amendment to Article 102(b) of the Constitution is a threat to the peaceful and orderly transfer of power, Church leaders have warned. Read more »

Uganda: Blame Museveni for Whatever Mistake Will Be Made in Parliament - Kiiza

Monitor, 18 December 2017

With just minutes to before Parliament commences the debate on constitution amendment bill, both government and Opposition are conducting last minute consultations to rally… Read more »

Uganda: Court Dismisses Application to Block Age Limit Debate

Observer, 15 December 2017

The Assistant registrar of the Civil division of the High court, Joy Kabagye has dismissed an application in which three opposition politicians were seeking interim orders to stop… Read more »

Uganda: Events That Will Not Leave Us the Same

Monitor, 18 December 2017

Changing Constitutions to suit the needs of sitting presidents is nothing new in Africa but when some MPs began pushing for this at the beginning of the year, no one really… Read more »

Uganda: We Are Concerned About Latest Political Developments in Uganda

Monitor, 18 December 2017

Mr Pedersen is the Ambassador of Denmark to Uganda. This is a speech he delivered during the special event to mark the International Human Rights Day held on December 15, 2017. Read more »

Uganda: Our Constitution Is Superior to Party Majorities in Parliament

Monitor, 18 December 2017

When I appeared before the Parliamentary Committee on Legal Affairs to give my testimony on Constitutional (Amendment) Bill no 2 of 2017, which seeks to remove age limits from the… Read more »
InFocus
A recent International Crisis Group report says Uganda faces a growing crisis of governance on numerous fronts. President Yoweri Museveni is likely to run for re-election in 2021. ... Read more »

The much-anticipated debate on the removal of the presidential age limit has returned to parliament following the completion of a report on the bill by the legal and parliamentary ... Read more »