Nigerian Senate Insists 2018 Budget Deadline Not Realistic
Efforts by the executive to get the legislature to pass the 2018 Appropriation Bill before the end of the year has suffered a setback at the Senate. The defeat followed arguments by senators that the ongoing budgetary process was flawed and reflected a lack of preparedness.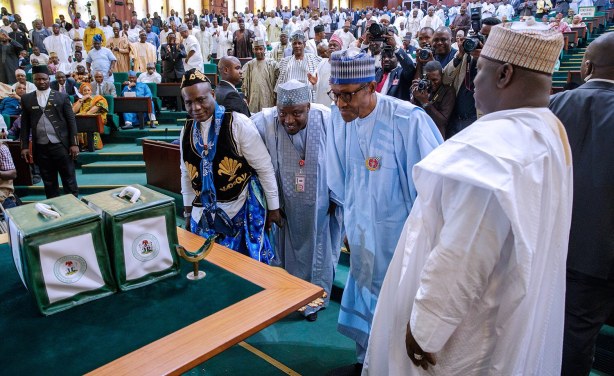 President Muhammadu Buhari presents 2018 national budget.
Nigeria: Buhari Under Fire, As Senate Says 2018 Budget 'Heavily Padded, Inconsistent, Full of Errors'

Vanguard, 20 December 2017

Returning to plenary after a two-week break during which it reviewed the 2017 budget of the Federal Government against the proposals for 2018, the Senate yesterday returned a… Read more »

Nigeria: Again 2018 Budget Allegedly Padded, Says Senate

Vanguard, 19 December 2017

The Senate, on Tuesday, criticised the executive arm of the government over the 2018 budget, alleging the budget was padded. Read more »

Nigeria: Is This Any Way to Execute a Budget?

Vanguard, 18 December 2017

Last year we released N1.3th for capital and so far this year we have released N450bn. This week we will release another N750bn. This will take the total releases to N1.2tn by the… Read more »

Nigeria: Senators to Delay 2018 Budget for 3 Months

Daily Trust, 20 December 2017

Senators are set to delay the passage of the 2018 budget for three months over poor implementation of capital component of the 2017 budget and non cooperative attitude of heads of… Read more »

Nigeria: Only 15 Percent of Budget Has Been Released in 2017, Says Senator Tejuoso

This Day, 20 December 2017

As at the end of November, only 15 per cent of funds have been released from the 2017 annual budget across all sectors of government, Chairman, Senate Committee on Health, Senator… Read more »

Nigeria: Senate Tackles Adeosun Over Govt's Plan to Pass 2018 Budget in January

Vanguard, 19 December 2017

Abuja - The Senate on Tuesday challenged the Minister of Finance kemi Adeosun, on Federal Government's insistence on passing the 2018 Budget in January when less than 50 per cent… Read more »

Nigeria: Senators Question Fashola, Ministry Over N888 Million Vehicles Budget

Premium Times, 19 December 2017

The Minister of Power, Works and Housing, Babatunde Fashola, was absent at Monday's budget defence as senators alleged duplication of items in the 2018 budget estimates as well as… Read more »

Nigeria: Bid to Pass 2018 Budget Before Year End Suffers Setback

This Day, 20 December 2017

Efforts by the executive to get the legislature to pass the 2018 Appropriation Bill before the end of the year has suffered a setback at the Senate. Read more »

Nigeria: Budget - N16 Billion Padded in Fashola's Ministry - Senators

Daily Trust, 19 December 2017

Senators yesterday said they discovered N16billion 'frivolous' items in the power wing of the ministry of Power, Works and Housing under the supervision of Babatunde Raji Fashola. Read more »
InFocus
The government has hired Malaysian consultants to help conduct a study that would aid the implementation of the Economic Recovery and Growth Plan. The consultants are expected to ... Read more »

Minister of Budget and Planning Udoma Udoma has refused to disclose details of the draft budget but noted that the Executive will liaise with the National Assembly to determine ... Read more »

The budget for 2018 is 16% higher than the previous year and will focus on critical sectors of the economy such as roads, health, housing and job creation. Read more »