How Odd was 2017 for allAfrica's Readers?
"Gay" lions, Robert Mugabe's "demon-possessed" sons, a sex tape tied to Liberia's ruling party... These and other stories highlight some of 2017's more bizarre incidents.
Zimbabwe: Grace Mugabe Suspects Demons As Sons Go Wild

New Zimbabwe, 25 July 2017

First Lady has admitted that she and husband President Robert Mugabe have failed to discipline their two sons Robert (Junior) and Bellamine Chatunga who have become wild. Read more »

Liberia: Sex Tape Rocks Ruling Party

FrontPageAfrica, 28 June 2017

A sexually-explicit embarrassing video posted in a Facebook chatroom with alleged ties to the ruling Unity Party in Liberia is drawing condemnation from various political circles… Read more »

South Africa: Student Goes on Shopping Spree After Accidental Aid Deposit

News24Wire, 30 August 2017

A Walter Sisulu University student who accidentally received a whopping R14m pay-out from the National Student Financial Aid Scheme has already spent about half a million of it,… Read more »

Nigeria: Nigerians Warned to Stop Mocking North Korea's Kim Jong

Vanguard, 4 September 2017

Nigerians have been warned to stop making mockery of the Supreme Leader of North Korea Kim Jong-un "lest they pay a heavy price". Read more »

Zimbabwe: Anger As Mugabe Snapped Eating Lays At His Birthday

News24Wire, 27 February 2017

Forget that gigantic birthday cake. What's got many Zimbabweans really fed up about President Robert Mugabe's 93rd birthday party is the fact he was eating a bag of imported Lays… Read more »

Zimbabwe: Sex Worker's Funeral Brings Township to Standstill

News24Wire, 17 March 2017

Mourners at the funeral of a sex worker in Harare inflated condoms and brought her coffin to a beer hall, reports say. Read more »

Uganda: At 37, She Has Given Birth to 38 Children

Monitor, 23 April 2017

Lost along the way, a boda boda rider offers to lead me to her home since they know her by her unique name. Read more »

Malawi: Police Call for Calm Amidst Bizarre 'Bloodsuckers' Panic

Nyasa Times, 4 October 2017

Malawi Police has appealed to communities in tea growing district of Thyolo not to live in fear amid rumors of 'blood suckers' currently circulating in Thyolo, Mulanje, Nsanje,… Read more »

Zimbabwe: Bereaved Urinates in Mourner's Mouth

The Herald, 15 December 2017

In a bizarre case, a woman from Mvuma in the Midlands Province has appeared in court for urinating in the mouth of a mourner who collapsed at the funeral wake of her son. Martha… Read more »
InFocus
Ezekiel Mutua stands by his remarks for scientific research to be conducted to determine the cause of the animals' "bizarre" behaviour after two male lions were pictured engaging ... Read more »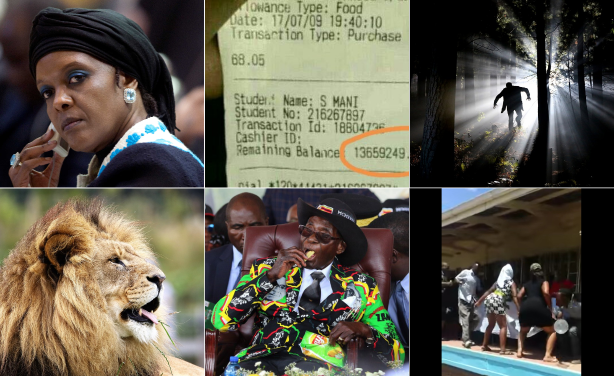 Grace Mugabe and her "demon" sons, that shopping spree with misdirected student funds, vampires in Malawi, "gay" lions", Robert Mugabe and his birthday Lays, and sex workers partying at colleague's funeral. Our odd Top stories for 2017...