Zimbabwe's Tsvangirai Has Left Big Shoes to Fill
Morgan Tsvangirai's epic political battle with former president Robert Mugabe stands as one of the most intriguing and important events in recent times. He was the first opposition leader to dare utter the words "Mugabe Must Go" - a mantra which was suicidal at the time. Despite being tortured in police detention, facing treason charges, multiple arrests and open provocation by the Mugabe regime, he kept fighting. Now that he is gone, can Morgan Tsvangirai's shoes be filled?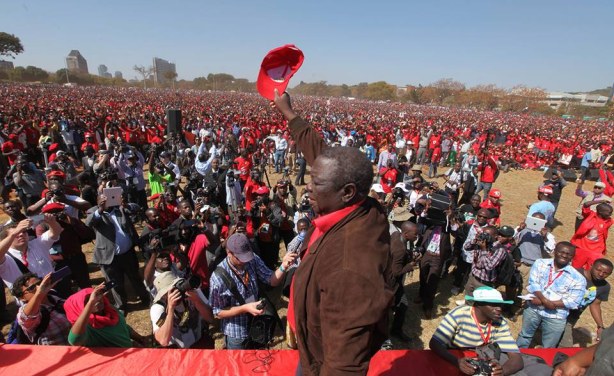 Morgan Tsvangirai at a rally in 2013 (file photo).
Zimbabwe: Tsvangirai's Death - Chamisa to be Leader of Opposition Party for 12 Months

New Zimbabwe, 15 February 2018

NELSON Chamisa was Thursday elected new MDC-T leader for the next 12 months at a meeting not attended by leadership rivals and party vice presidents Elias Mudzuri and Thokozani… Read more »

Zimbabwe: Morgan Tsvangirai - Heroic Herald of an Epoch Foretold

The Conversation Africa, 15 February 2018

Morgan Tsvangirai, who was born March 10 1952 in Buhera, in Manicaland just across the border from Zimbabwe's Gutu District in Masvingo, became leader of Zimbabwe's Movement for… Read more »

Zimbabwe: Morgan Tsvangirai - the Man Who Dared Zimbabweans to Dream Again

The Conversation Africa, 15 February 2018

One never forgets their first job. For me it was not the work experience that left an indelible impression, though it was appreciated. It was that one day at work when all seems to… Read more »

Zimbabwe: No Winners or Losers, Just Hopeful Citizens

The Herald, 16 February 2018

We join the Tsvangirai family and the opposition MDC-T in mourning the death of party leader Mr Morgan Tsvangirai, who succumbed to colon cancer in South Africa on Wednesday. Mr… Read more »

Zimbabwe: Lack of Succession Plan Leaves Tsvangirai's Party in Disarray

The Conversation Africa, 15 February 2018

The absence of a party leader and a clear succession path often leads to political parties losing political direction. This is exemplified by Zimbabwe's main opposition party, the… Read more »
InFocus
From Activists to pastors, opposition politicians to those those in the ruling party , Zimbabweans from all walks of life have taken to Twitter to pay their tributes to Read more »

Morgan Tsvangirai, the veteran opposition leader who fought Robert Mugabe's regime for many years, has died in a South African hospital after a long battle with colon cancer. ... Read more »