South African Parliament Reacts to President's Address
During his State of the Nation address on February 16, President Cyril Ramaphosa took a clear, firm stance on his plans to end corruption at state institutions and state-owned enterprises, promising to deal severely with those who got in the way. MPs began debating his address on Monday, and he is due to reply to the debate on Tuesday.
Video
Author:

South African Broadcasting Corporation

Publisher:

Publication Date:

19 February 2018

The National Assembly sat for ten hours today, as parliamentarians debated President Cyril Ramaphosa's maiden State of the Nation Address. All ... see more »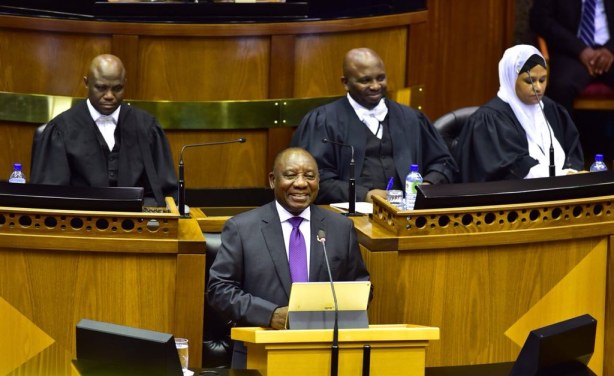 President Cyril Ramaphosa delivers the State of the Nation Address in Parliament .
South Africa: Parliament to Debate Ramaphosa's State of the Nation Address

News24Wire, 19 February 2018

Parliament is on Monday set to debate the first ever State of the Nation address that was delivered by newly elected President Cyril Ramaphosa last week. Read more »

South Africa: Ramaphosa Carefully Treads the Renewal Path

AgangSA, 19 February 2018

CAREFULLY WORDED, diplomatically delivered and with an air of credibility and gravitas, President Cyril Ramaphosa's first State of the Nation Address clearly heralded the promise… Read more »

South Africa: What Ramaphosa Needs to Do to Fix South Africa's Foreign Relations After Zuma

The Conversation Africa, 18 February 2018

When President Cyril Ramaphosa sits down to brief a newly appointed Minister of International Relations and Development, he might wonder what to say. Read more »

South Africa: 10 Things ANC President Cyril Ramaphosa Must Do Urgently

AgangSA, 19 February 2018

First, craft an urgent exit plan for President Jacob Zuma as the starting point to restore public confidence and trust in the ANC and government. Read more »

South Africa: SANDF Allowed Peaceful 'Change of Leadership' - Ramaphosa

News24Wire, 18 February 2018

The South African National Defence Force (SANDF) has proven its role as a protector of the country's constitutional order by allowing a peaceful handover of leadership in the ANC,… Read more »
InFocus
President Cyril Ramaphosa will have his work cut out for him, in order to rebuild a country whose economy has been battered by ratings agency downgrades, a falling rand, a bloated ... Read more »