Did Kenya's Odinga Pull Wool Over Allies' Eyes?
Amani National Congress secretary-general, Barrack Muluka, has said that National Super Alliance leader Raila Odinga "lied" about his whereabouts on the morning of January 30, when he took the oath as "People's President". Muluka said Odinga told his Nasa co-principals to switch off their phones, promising that he would would reach them using a foreign number to tell them where they should meet, but never called them.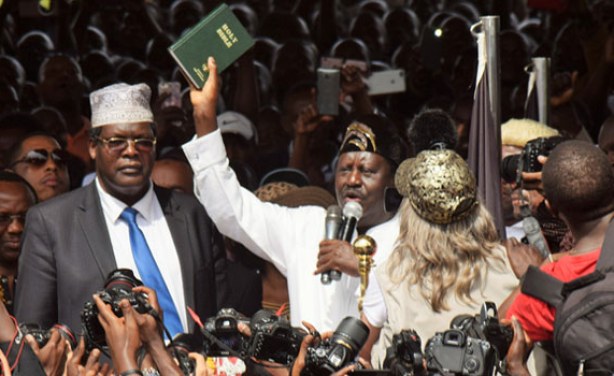 Holding up a green bible, Raila Odinga administered the oath himself - but without Kalonzo Musyoka, his running mate in the 2017 general election.
InFocus
The National Super Alliance leader Raila Odinga has accused envoys of serving selfish interests after they endorsed President Uhuru Kenyatta's victory in 2017 elections. He was ... Read more »

The leader of the National Super Alliance (Nasa) Raila Odinga has reiterated that the coalition is ready to hold talks with the government to end the "political crisis" in the ... Read more »

A key security committee decided that police should be withdrawn from Uhuru Park and allow the opposition alliance Nada to 'swear in' Raila Odinga, the Daily Nation reports. ... Read more »