Kenyan Police Offer Reward for Arrest of Mt Elgon Attack Suspect
Timothy Kiptanui Kitai, alias Cheparkach, is allegedly behind the killings that has forced the government to impose dusk-to-dawn curfews in the Cheptais sub-county. Locals have said that the criminals were colluding with security forces in the area.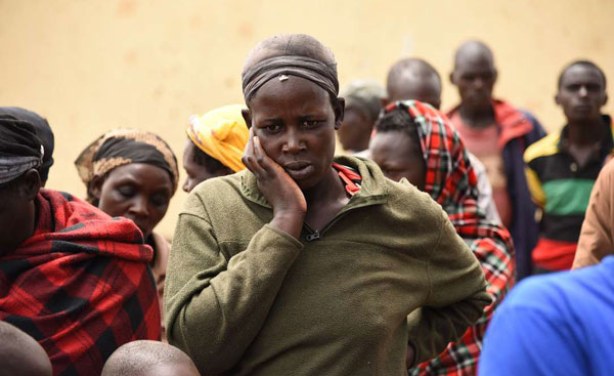 Mt Elgon residents who fled the attacks and took refuge at Kapkirongo Primary School in Bungoma County on February 28, 2018.
Kenya: State Deploys Forces to Quell Mt Elgon Violence, Issues Curfew

Nation, 6 March 2018

The government has declared a dusk-to-dawn curfew in the Mt Elgon region in a bid to curb resurgent violence. Read more »

Kenya: Matiang'i Imposes Dusk-to-Dawn Curfew in Mt Elgon

Nation, 6 March 2018

Security chiefs in Bungoma County will have to contend with heavy rains, muddy roads and a population unwilling to come forth with information as they battle killer gangs in Mt… Read more »

Kenya: Residents Share Shocking Revelations of Mt Elgon Killer Gangs

Capital FM, 6 March 2018

Mount Elgon residents on Tuesday made shocking revelations under the hands of ruthless gangs responsible for tens of killings in the area. Read more »

Kenya: Mt Elgon Locals Ask for Food Amid Attacks By Gangs

Nation, 1 March 2018

Hundreds of families in Mt Elgon are camping in primary schools following attacks by criminal gangs that have terrorised residents since the year started. Read more »

Kenya: State Will Not Let Criminals Harm Mt Elgon Residents - Ruto

Nation, 25 February 2018

Deputy President William Ruto has condemned the killings and attacks in Mt Elgon, Bungoma County. Read more »

Kenya: 1,200 Families Ordered to Leave Mt Elgon Forest Over Insecurity

Nation, 4 February 2018

The government has ordered 1,200 families out of Mt Elgon Forest in Bungoma County as security officers intensify a crackdown on members of an armed gang operating from their… Read more »