How Many Goodbyes Can President Khama Say?
President Ian Khama is winding up official duty as he ends his 10-year tenure on March 31, having taken office on April 1, 2008. Vice President Mokgweetsi Masisi will be sworn in on April 1, ahead of the elections in 2019.
Botswana: Cabinet Bids Khama Farewell

Botswana Daily News, 25 March 2018

As President Lt Gen. Dr Seretse Khama Ian Khama's tenure comes to an end in a week's time, the Vice President, Cabinet ministers on March 24 hosted a grand send-off farewell… Read more »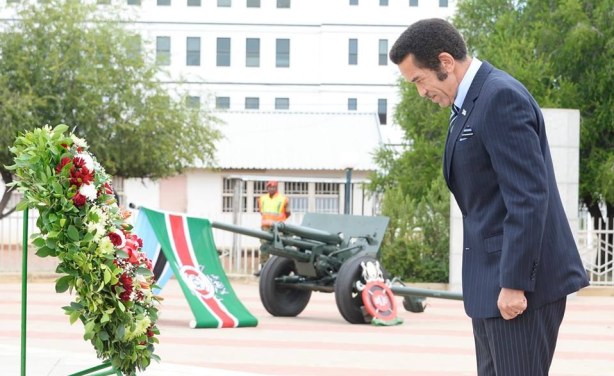 President Ian Khama (file photo).
Botswana: Khama Decorates Makgophe, Kgosi

Botswana Daily News, 26 March 2018

President Lt Gen. Dr. Seretse Khama Ian Khama on March 26 bestowed the commissioner of Police, Mr Keabetswe Makgophe and the director general of the Directorate on Intelligence and… Read more »

Botswana: Parliament Bids Khama Adieu

Botswana Daily News, 26 March 2018

Members of Parliament on March 26 bid adieu to the retiring fourth President Lt Gen Dr Seretse Khama Ian Khama at the National Assembly. Read more »

Botswana: Army Gives Khama Final Salute

Botswana Daily News, 26 March 2018

The outgoing Commander in Chief President Lieutenant General Dr Seretse Khama Ian Khama conducted his last Botswana Defence Force inspection of parade on March 26 at Sir Seretse… Read more »

Botswana: Khama Endorses Masisi

Botswana Daily News, 18 March 2018

President Lt Gen. Dr Seretse Khama Ian Khama says his successor is capable and the right man for the job as he will take the country to greater heights. Read more »

Botswana: Khama Thanks Residents

Botswana Daily News, 22 March 2018

President Lt Gen. Dr Seretse Khama Ian Khama has thanked residents of Serowe West constituency for working well with him during his tenure as area MP and Vice President. Read more »
InFocus
Outgoing President Ian Khama has revealed his plans to continue serving Botswana post-retirement in various areas including patronising arts, football, as well as serving as ... Read more »