Kenya Public Universities Crack Whip on Striking Lecturers
The University of Nairobi has taken the lead by suspending 35 lecturers after they declined to return to work following the Labour Court's ruling that declared the pay strike illegal and unprotected in March. The industrial action enters its third month on May 1.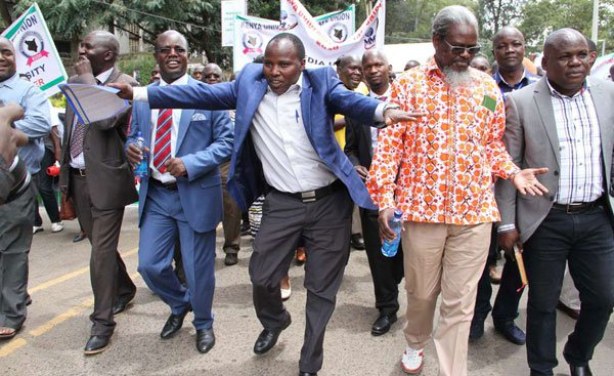 Public universities union members call for the implementation of their salaries agreement, during a demonstration in Nairobi on April 18, 2018.
Kenya: Govt to Launch Task Force to Deal With Lecturers' Strike

Capital FM, 26 April 2018

The government is set to launch an inter-ministerial Task Force to discuss the stand-off that has led to a biting strike by lecturers in public universities. Read more »

Kenya: Police in Nairobi Disperse Protesting Varsity Lecturers

Nation, 18 April 2018

Police in Nairobi have stopped striking lectures and other university staff from holding demonstrations. Read more »

Kenya: UON Directs Students to Attend Class Despite Strike By Lecturers

Capital FM, 18 April 2018

The University of Nairobi (UoN) has directed its students to continue attending class despite the ongoing lecturers strike that has paralysed learning in public institutions across… Read more »

Kenya: Dons' Strike Talks Stall as IPUCCF Offers Non-Monetary Proposals

Capital FM, 18 April 2018

Learning in public universities remains in disarray 49 days after the Universities Academic Staff Union (UASU) instructed lecturers to down their tools over stalled Collective… Read more »

Kenya: What Kenya Needs to Do to Stop the University Strike Cycle

The Conversation Africa, 16 April 2018

Kenya's public university lecturers are on strike, barely three months after another lengthy work stoppage. Ishmael Munene spoke to Moina Spooner from The Conversation Africa about… Read more »

Kenya: Teachers, Lecturers Top Gainers in Mini Budget

Nation, 12 April 2018

Teachers and lecturers are the biggest beneficiaries of the Sh40 billion supplementary budget, which was tabled in the National Assembly on Wednesday. Read more »

Kenya: Lecturers Defy Court Order, Insist Strike is Still On

Nation, 9 April 2018

Staff in public universities on Monday defied a court order to resume work and insisted the strike is on until counter salary deal is tabled. Read more »
InFocus
University Academic Staff Union Secretary-General, Constantine Wasonga, maintains that the strike will only be called off once a counter-offer has been tabled. The National ... Read more »

Students from various public universities have accused the education ministry of failing to address the crisis with striking lecturers, saying it is having a negative impact on ... Read more »

Kenya Universities Staff Union have vowed to intensify their four-week strike by stopping all learning at the 31 public universities until the government honours their pay ... Read more »