How Will the Somalia-UAE Row Affect Peacekeeping?
Growing diplomatic disputes between Mogadishu and the United Arab Emirates have led to the suspension of the UAE's support for security institutions and humanitarian aid in April. This comes at a time when the international community is considering pulling out its peacekeepers by 2020/21.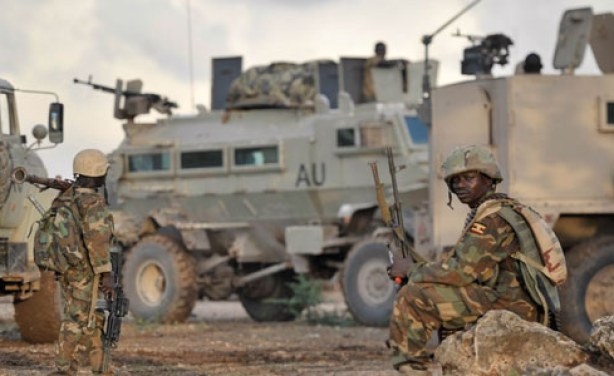 Amisom troops in Somalia (file photo).
East Africa: How an Unrecognised State's Port Deal Could Shift Dynamics Across the Horn

African Arguments, 1 May 2018

Despite Somalia's protestations, DP World and Somaliland are set to expand Berbera port. Some in the neighbourhood are excited. Others are worried. Read more »

Somalia: Large Military Movement Reported Near Dhobley Town

Shabelle, 2 May 2018

Jubbaland troops backed by Kenyan defence forces [KDF] were reported to have begun a massive military movement on the outskirts of Dhobley town, near Kenyan border. Read more »

Somalia: Former Somali PM Speaks About Berbera Port Deal With UAE

Shabelle, 22 April 2018

Former Somali Prime Minister, Omar Abdirashid Ali Sharmarke has distanced himself from the controversial Berbera port agreement with the United Arab Emirates [UAE]. Read more »

Somalia: DP World Urged to Rethink Port Deals

Shabelle, 21 April 2018

Somalia's foreign minister said on Friday that Dubai state-owned port operator DP World should reconsider its contract with the breakaway region of Somaliland and work with federal… Read more »

Somalia: Somalia Must Speed Overhaul of Fragile Army to Face Militants, Say Donors

Shabelle, 2 May 2018

Somalia should accelerate reforms of its army, its main foreign backers said on Wednesday after discussing slow progress in transforming the graft-ridden force into one capable of… Read more »

Somalia: Somaliland President Urged to Resign On Treason Charges

Shabelle, 19 April 2018

The leader of Somaliland's opposition party Abdirahman Irro has called on the state's President Muse Bihi to immediately step down on treason charges. Read more »