Nigeria Has No Chance of Winning 2018 World Cup, Study Reveals
The Super Eagles are ranked 22nd out of the 32 participating nations and have been tipped to finish third in Group D and crash out in the group stage, according to a survey conducted by CIES Football Observatory research group. This is Nigeria's sixth time participating in the tournament.
Nigeria: Super Eagles Ranked 18th Likeliest Team to Win World Cup

Guardian, 18 May 2018

According to UBS, an investment bank and financial services company, Nigeria are the 18th likeliest team to win the World Cup in Russia with a 0.3% chance. The Super Eagles,… Read more »

Nigeria: Five Top Goalkeepers to Watch in Russia

Guardian, 22 May 2018

Goalkeepers have colossal roles to play in determining their countries' progression at this year's World Cup in Russia. As the host kick-starts the competition with the opening… Read more »

Nigeria: Balogun Reveals How Eagles Will Stop Messi in Russia

Guardian, 19 May 2018

Super Eagles and Mainz central defender, Leon Balogun, has revealed the steps the Super Eagles will take to prevent Barcelona superstar, Lionel Messi, from scoring when they face… Read more »

Nigeria: 36 Days to Russia 2018 - Eagles Need This Tactic to Triumph

Premium Times, 9 May 2018

The countdown to Russia 2018 World Cup is less than 40 days. The pundits still believe that the Super Eagles do not stand any chance on winning the trophy. Many of these observers… Read more »

Nigeria: Swiss-Based Data Outfit Predicts Super Eagles Won't Survive Group Stage

Guardian, 2 May 2018

Swiss-based football data company, CIES Football Observatory has conducted a study in which it tried to predict the likely winner of the 2018 World Cup based on its exclusive power… Read more »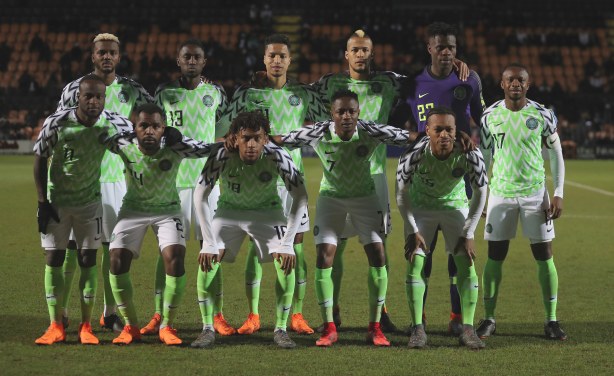 Super Eagles.
Nigeria: Rohr, Balogun Differ On Super Eagles' World Cup Chances

Daily Trust, 8 May 2018

Super Eagles coach Gernot Rohr has played down the national team's chances of reaching the semifinals of the 2018 World Cup, arguing that they are not among the top ranked African… Read more »

Nigeria: Rohr Tasks Agali, Others to Dig Up More Info On Croatia

Vanguard, 9 May 2018

Determined to start well in their group D World Cup opener against Croatia, Super Eagles coach, Gernot Rohr has asked his scouts to unearth more information that will help beat the… Read more »

Nigeria: Rohr Fears Croatia's Stars, Hinges Eagles Success On Opening Game

Guardian, 7 May 2018

Super Eagles coach, Gernot Rohr has acknowledged that Croatia is the favourite to beat Nigeria when they meet in the opening game of the Russia 2018 World Cup on June 16. Read more »

Nigeria: Argentine 'Hooligans' Barred From Eagles' Match in Russia

This Day, 9 May 2018

The usual vociferous Argentine football fans that have held sway at almost every World Cup matches between the Super Eagles and the South American nation will be absent this summer… Read more »

Nigeria: AWCON Qualifiers - Nigeria Invites Barcelona Defender, 25 Others

Premium Times, 8 May 2018

The Super Falcons Coach, Thomas Dennerby, has invited 26 players to begin camping on Thursday ahead of preparations for the 2018 Women Africa Cup of Nations (AWCON) qualifying… Read more »

Nigeria: Eagles Ranked Outsiders, Spain Tipped to Win

This Day, 2 May 2018

Respected European sports research group, CIES Football Observatory, has ruled out the Super Eagles from amongst teams capable of winning the FIFA World Cup 2018 starting in Russia… Read more »

Nigeria: 2018 FIFA WC - Onazi Praises Rohr for Fast Recovery From Injury

Vanguard, 8 May 2018

Super Eagles midfielder, Ogenyi Onazi has attributed his quick recovery from injury to work done on him by Super Eagles trainer who was sent to Turkey by coach Gernot Rohr. Read more »

Nigeria: Onazi Thanks Rohr, Declares Readiness for World Cup

Guardian, 8 May 2018

Nigeria's Vice Captain, Ogenyi Onazi yesterday expressed his delight to be '100 per cent fit and ready for World Cup' following Super Eagles Manager, Gernot Rohr's efforts that got… Read more »

Nigeria: 'Ndidi Will Be Fit for World Cup'

This Day, 8 May 2018

Despite missing the rest of the English Premier League (EPL) season due to a hamstring injury, Leicester City midfielder, Wilfred Ndidi, 21, has been tipped to be fully fit to… Read more »

Nigeria: Dalung Mobilises Non-State Resources for Super Eagles

This Day, 7 May 2018

The Federal Government has thrown its weight behind the mobilisation of non-state resources for the Super Eagles' participation at the 2018 FIFA World Cup scheduled for Russia for… Read more »

Nigeria: Fitness Key to Nigeria's Success in Russia, Says Leon Balogun

Guardian, 7 May 2018

Super Eagles defender, Leon Balogun says it is crucial his fellow international team-mates stay injury-free ahead of the 2018 World Cup. Read more »

Nigeria: Super Eagles Coach Worried Over Football Board Crisis, Players' Injury

Daily Trust, 3 May 2018

Super Eagles manager Gernot Rohr is concerned by the spate of injuries in the team, few weeks to the start of the Russia 2018 World Cup. Read more »

Nigeria: Ndidi Thanks Leicester Fans for Support

Vanguard, 4 May 2018

Wilfred Ndidi has thanked the Blue Army for sticking by their team through a season of ups and downs. Read more »

Nigeria: England, Nigeria Friendly Not a Walk in the Park - High Commissioner

Vanguard, 4 May 2018

British High Commissioner to Nigeria, Paul Arkwright has urged the Super Eagles to get prepared for a hard match, when they play against the Three Lions next month. Read more »

Nigeria: Lagerback Recalls Memories of 2010 World Cup With Super Eagles

Guardian, 4 May 2018

Former Super Eagles coach, Lars Lagerback, has sent his goodwill message to the team ahead of the World Cup tournament, expressing how fondly he holds the memories he had during… Read more »

Nigeria: Super Eagles Will Excel in Russia - Yobo

Premium Times, 3 May 2018

Nigeria's ex-international, Joseph Yobo, says he believes the current squad of the Super Eagles will excel in the forthcoming FIFA World Cup in Russia. Read more »

Nigeria: Rumbles Over Super Eagles World Cup Fund Raising

Guardian, 8 May 2018

Why would the Sports Ministry campaign for funds for Nigeria's participation in the forthcoming Russia 2018 World Cup when the world football governing body, FIFA, has already paid… Read more »