Opposition MPs Jailed for Insulting Magufuli Released
Mbeya Urban Member of Parliament Joseph Mbilinyi 'Sugu' and regional secretary of opposition party Chadema, Emmanuel Masonga have been released from jail. The two were handed a five-month prison sentence in February for uttering 'bad words' against the Tanzania President John Magufuli during a political rally.
Tanzania: All Joy As Sugu, Masonga Finally Home

Citizen, 10 May 2018

It was a moment of joy when Mbeya Urban MP Joseph Mbilinyi 'Sugu' and Southern Highland Zone Secretary of Chadema Mr. Emmanuel Masonga were finally home this morning. The two were… Read more »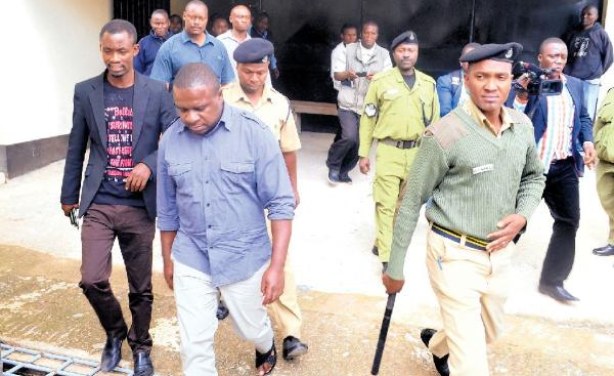 Joseph Mbilinyi leaves the mbeya resident Magistrate's Court after being sentenced to five months in jail.(file photo).
Tanzania: Sugu and Magonga Released 'Quietly' From Prison

Citizen, 10 May 2018

It was a moment of surprise, mouths wide open, when Chadema national chairman, Mr Freeman Mbowe and other Chadema members realized that the Mbeya Urban MP Joseph Mbilinyi 'Sugu'… Read more »

Tanzania: Joseph Mbilinyi Aka Sugu to Be Released From Prison Today

Citizen, 10 May 2018

The Chadema national chairman, Mr Freeman Mbowe has arrived at Ruanda Prison in Mbeya, ready for the release of Mbeya Urban MP Joseph Mbilinyi 'Sugu' - "stubborn" or "hard" in… Read more »

Tanzania: Two Jailed for Insulting President Magufuli

Daily News, 27 February 2018

THE Mbeya Resident Magistrate's Court yesterday sentenced the Member of Parliament for Mbeya Urban under Chadema, Joseph Mbilinyi, alias Sugu and the opposition party's Zonal… Read more »
InFocus
The six Chadema top brass facing eight counts of sedition, raising discontent and ill-will for unlawful purposes, have all been granted bail despite failing to appear in court for ... Read more »