Nigeria's Okonjo-Iweala Blames 'Mischief' For Scavenger Quote
Former minister of finance Ngozi Okonjo-Iweala has distanced herself from a statement credited to her, saying that she never said "yesterday's scavengers are today's saints". Okonjo-Iweala was reacting to quotes making the rounds across social media in which she allegedly criticised some officials of the present administration who held political office in the last administration.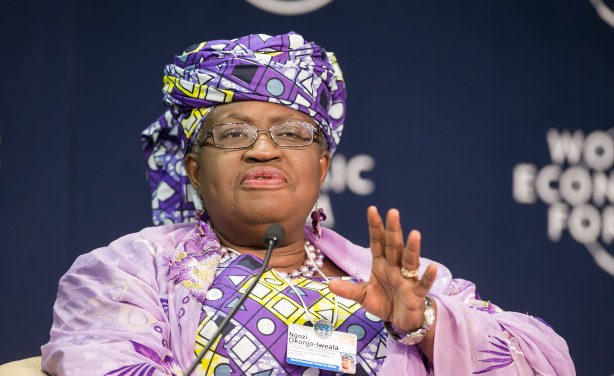 Ngozi Okonjo-Iweala.
Nigeria: Okonjo-Iweala Tackles 'Mischief Makers' Over Incorrect Quotes From New Book

Premium Times, 13 May 2018

A former Nigerian Minister of Finance, Ngozi Okonjo-Iweala, has disowned a viral quote purportedly contained in her new book, 'Fighting Corruption is Dangerous.' Read more »

Nigeria: Okonjo-Iweala Denies Statement, Warns Mischief Makers

Vanguard, 13 May 2018

Ex-minister of finance Dr. Ngozi Okonjo-Iweala has on Sunday distanced herself from a statement credited to her, saying that she never said 'yesterday's scavengers are today's… Read more »

Nigeria: Why I Offered to Serve in Jonathan's Govt - Okonjo-Iweala

Vanguard, 1 May 2018

Former Finance Minister, Dr Ngozi Okonjo-Iweala, has said former President Goodluck Jonathan acknowledged that he did not know economics but had a clear direction of where he… Read more »

Nigeria: Jonathan Presidency - Donald Duke Replies Okonjo-Iweala

Premium Times, 25 April 2018

A former governor of Cross River State, Donald Duke, has hit back at former Minister of Finance, Ngozi Okonjo-Iweala, on her revelations that he tried to dissuade her from joining… Read more »

Nigeria: How Oil Marketers Plotted to Confine Me to Wheelchair - Okonjo-Iweala

Vanguard, 25 April 2018

Former Finance Minister, Mrs. Ngozi Okonjo-Iweala, has alleged that there was a plan by oil importers and marketers to confine her to a wheelchair and force her out of office… Read more »

Nigeria: Okonjo's Book Reveals How Jonathan Conceded 2015 Election

This Day, 17 April 2018

A new book written by a former Finance Minister and Coordinating Minister for the Economy, Dr. Ngozi Okonjo-Iweala, has revealed insider details that will impact Nigeria's… Read more »