Public Protector Called on to Probe 'Housing List Corruption'
The South African Human Rights Commission has called on Public Protector Busiswe Mkhwebane to investigate allegations of housing list corruption following protests by Parkwood residents over land and adequate housing.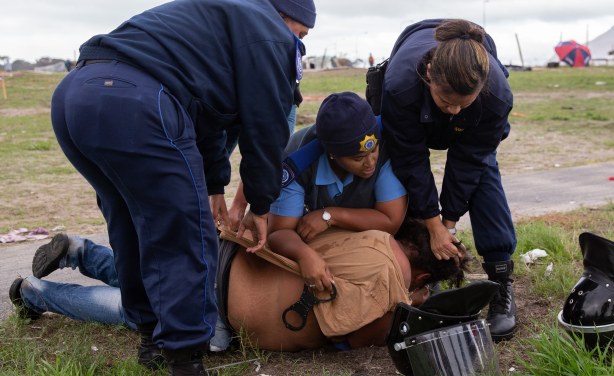 Violence broke out after land occupiers' shacks were demolished and removed along Prince George Drive, in Cape Town's south peninsula, on Wednesday morning by government contractors. Protesters set ...
Video
Publisher:

Publication Date:

25 May 2018

Residents from Parkwood and police clash after the removal of structures from illegal occupations. see more »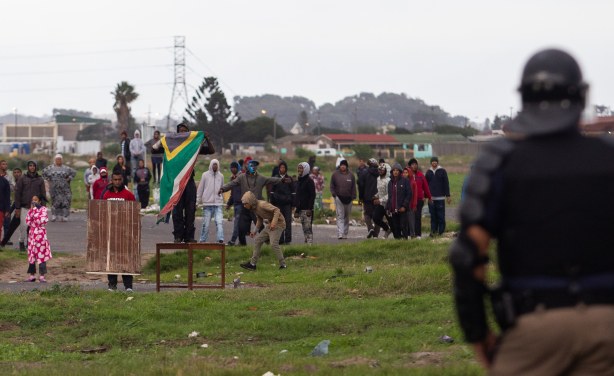 A protester wraps himself in a South African flag during a face-off with police officers.
South Africa: Main Cape Highway Closed As Tyres Set Alight, Vehicles Stoned

News24Wire, 24 May 2018

Prince George Drive near Parkwood has been closed due to unrest, the City of Cape Town confirmed on Thursday afternoon. Read more »

South Africa: Protests Play Havoc On Cape Town Roads, Causing Major Traffic Headaches

News24Wire, 24 May 2018

Protests have played havoc with roads in Cape Town on Thursday morning, while heavy morning rainfall has also slowed down traffic. Read more »

South Africa: 'We Condemn the Illegal Occupation of Land' - Ramaphosa

News24Wire, 23 May 2018

President Cyril Ramaphosa has said during his Presidency budget vote debate in Parliament that the government condemns the illegal occupation of land. Read more »

South Africa: 'Where Will We Go?' - Parkwood Backyarders

News24Wire, 23 May 2018

Western Cape Human Settlements MEC Bonginkosi Madikizela assured Parkwood residents on Tuesday that a "lasting solution" would be found to end the problem of housing in the area,… Read more »

South Africa: Ocean View Residents Fight Back Against Evictions

News24Wire, 22 May 2018

Residents of Ocean View, Cape Town, retaliated on Tuesday as the Red Ants evicted illegal occupiers from two premises. Read more »

South Africa: Minister Attempts to Reassure Parkwood Backyarders

GroundUp, 23 May 2018

"So what do we do now? Do we take down the structures that are already up? If we do, where will we go?" asks land occupier. Read more »

South Africa: Unlicensed Firearm and Ammunition Taken Off Grassy Park Streets

SAPS, 21 May 2018

Vigilance of the Grassy Park police led to the arrest of a 31-year-old man who was found to be in possession of an unlicensed firearm and ammunition at Moosa Walk, Parkwood, Grassy… Read more »
InFocus
Protests in Vrygrond, Cape Town, have seemingly ended following a confrontation between demonstrators and police. Vrygrond Community Development Forum leader Michael Khumalo said ... Read more »