Court Tries Suspects in Kenya's Biggest Corruption Case
Twenty of the 54 suspects involved in the National Youth Service (NYS) scandal spent the night at various police stations in Nairobi after police denied them bail. The NYS scandal was a corruption case within Kenya's Ministry of Devolution and Planning. President Kenyatta set up the service as a paramilitary training institution to lower high youth unemployment. Between U.S.$8 million to U.S.$100 million was reportedly stolen from the ministry's budget. At the center of the scandal is the ministry's former cabinet secretary, Anne Waiguru.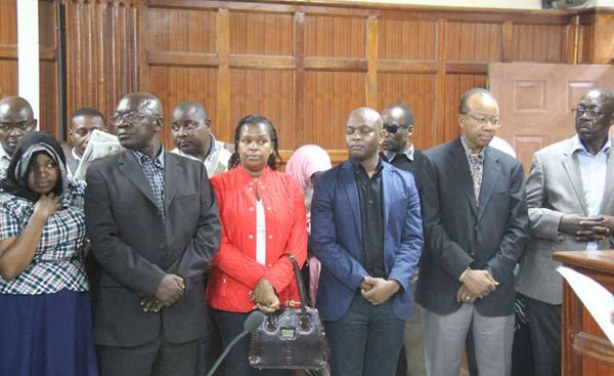 National Youth Service graft suspects appear before Nairobi Chief Magistrate in 2016.
Kenya: The Sacred Cows in National Youth Service Scandal

Nation, 29 May 2018

The omission of high profile public officials, bank managers, a cabinet secretary and directors of some companies that were paid in excess of Sh1 billion in the latest scandal to… Read more »

Kenya: NYS Scandal Suspects Were Freed for Lack of Evidence

Nation, 29 May 2018

One of the cases against the suspects in the 2015 National Youth Service (NYS) scandal, among them former Devolution PS Peter Mangiti, was dismissed on March 9 this year after the… Read more »

Kenya: How National Youth Service Suspects' Homes Were Raided

Nation, 29 May 2018

The arrests of 19 people suspected to have played a role in the loss of funds at the National Youth Service (NYS) was conducted by three units of the Directorate of Criminal… Read more »

Kenya: Massive Corruption Case Grips Kenya, Prosecution Charges Suspects

Deutsche Welle, 28 May 2018

Kenya's Chief Prosecutor Noordin Haji said Monday he had enough evidence to press charges against 40 members of the National Youth Service (NYS) who were arrested in one of Kenya's… Read more »

Kenya: Who is Who in NYS Arrest List

Nation, 28 May 2018

Lillian Mbogo Omollo, Public Service and Youth Development PS Read more »

Kenya: NYS Top Bosses, 40 Others to Be Charged Tomorrow

Nation, 28 May 2018

The Director of Public Prosecutions, Mr Noordin Haji, has said he has sufficient evidence to press charges against suspects arrested Monday in connection with the latest NYS scam. Read more »

Kenya: Woman Who Was Paid Sh59 Milion for 'Air', Kin Arrested in NYS Swoop

Nation, 28 May 2018

Four members of the Ngirita family in Naivasha have been arrested in ongoing swoop of suspects linked to the Sh9 billion National Youth Service scandal. Read more »

Kenya: 54 Due in Court in First Phase of NYS Probe Involving Sh468 Million

Capital FM, 28 May 2018

Fifty four suspects will be charged Tuesday over the National Youth Service scandal. Read more »

Kenya: National Youth Service Boss Richard Ndubai Arrested

Nation, 28 May 2018

National Youth Service (NYS) boss Richard Ndubai has been arrested as the public prosecutor orders immediate prosecution of all suspects named in the Sh9 billion scandal. Read more »

Kenya: PS Lillian Omollo Surrenders to Police as NYS Roundup Hots Up

Nation, 28 May 2018

Public Service and Youth secretary Ms Lillian Mbogo Omollo has presented herself to the police as roundup of those named in the ministry's Sh9 billion scandal intensifies. Read more »

Kenya: Full List of Suspects Arrested in Connection to NYS Scandal

Nation, 28 May 2018

Police on Monday pounced on suspects named in the ongoing National Youth Service probe after the DPP ordered their immediate prosecution. Read more »

Kenya: Probe Now Shifts to Sh8 Billion Pending Bills at NYS

Nation, 28 May 2018

The Director of Public Prosecutions, Mr Noordin Haji, has cast his net wider in the National Youth Service probe, with a multi-agency team formed to pore through Sh8 billion… Read more »
InFocus
Kenyans have expressed their frustrations at the perception that corruption has become an accepted way of life in the country and that those who squander the opportunity to loot ... Read more »

Former Devolution Cabinet Secretary, Anne Waiguru, is among aspirants cleared to run in the upcoming general elections despite the Kenya Integrity Alliance asking the Independent ... Read more »

Former Devolution Cabinet Secretary Anne Waiguru claims a "mysterious puppeteer" is working with a network to frame her over the theft of public funds at the National Youth ... Read more »